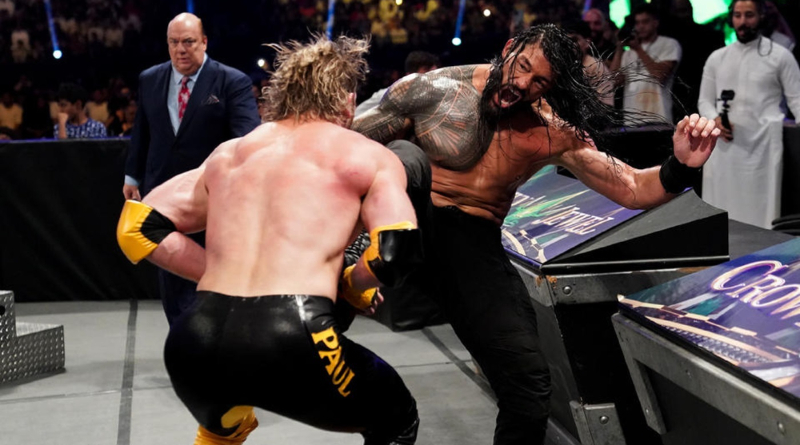 WWE Crown Jewel – Saturday
At WWE Crown Jewel on Saturday in Riyadh, Saudi Arabia, Logan Paul lost to Roman Reigns by a razor-thin margin after pushing him to the limit in his third professional wrestling battle as he pursued the Undisputed WWE Universal Championship.
Methodically, Reigns and Paul told the tale of the arrogant stalwart champion who didn't take the challenger seriously. When Paul used a clothesline to send Reigns over the top rope, his demeanor altered.
Reigns sent Paul over the barrier outside the ring, but within the ropes, Paul launched his first significant attack with a spectacular Buckshot Lariat for the two-count. Logan attempted a springboard assault in response, but Roman grabbed him with his right hand.
Following a back suplex, a flying clothesline, and a modified camel clutch, Reigns got to work. Finally, Logan came back with a gut-wrenching suplex and a top rope blockbuster.
READ ALSO: Becky Lynch Biography, Age, Career
Then, Paul performed a flying forearm and the kip up in the style of the legendary Shawn Michaels, who had coached him for a single day in Orlando. Paul was in the zone, landing a standing moonsault followed by a crossbody from the top rope.
Another HBK move was tried by the challenger, but Reigns successfully blocked it with a stiff uranage called Sweet Chin Music. Roman prepared for the Superman Punch while Paul was down, but Paul stopped him with a right hand to the kidney and a right hand to the face.
And with a little disdain for Reigns, Paul delivered a Superman Punch of his own to bring him dangerously close to falling.
When Paul buried Reigns through an announce table with a frog splash from the top turnbuckle while holding a cell phone in his left hand, he nearly pulled off the historic upset.
The Usos came to the champion's help and eliminated the two co-hosts of the Impaulsive podcast after Reigns and Paul became incapacitated in the debris.
Logan's brother, Jake, made an appearance to help settle the score after defeating UFC superstar Anderson Silva in boxing, knocking out both Bloodline members with a single right hand. This gave Paul the opportunity to land a second frog splash inside the ring for the close call.