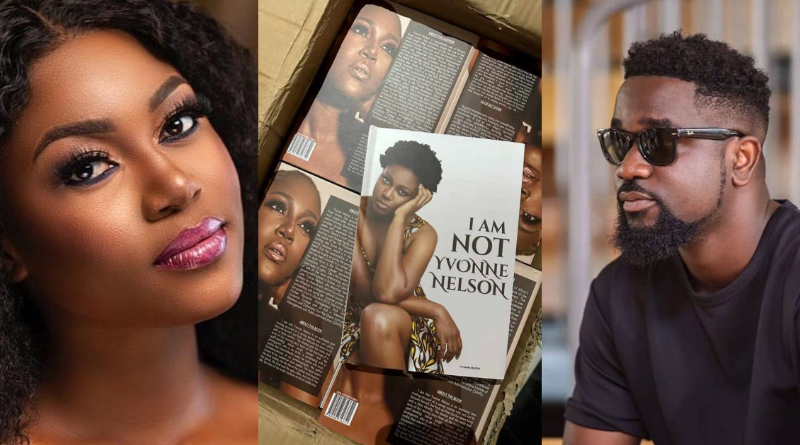 Sarkodie Was Featured In Yvonne Nelson's Book
Acclaimed rapper Michael Owusu Addo (Sarkodie) impregnate Ghanaian actress Yvonne Nelson in 2010, but they had to terminate the pregnancy because he wasn't ready to take responsibility for it.
This information was made public by Yvonne Nelson in Chapter 8 of her recently released book, "I am not Yvonne Nelson."
On Sunday, June 18, 2023, the book was revealed at the Peduase Lodge.
Because the rapper refused to take responsibility, the actress reveals in the book why she decided to end the pregnancy.
"I had gone for a pregnancy test to confirm what becomes the obvious conclusion for a sexually active young woman who missed her monthly flow. I was in the company of Karen. And when the test result was ready, I wasn't strong enough to open it. She did and declared the verdict."
"On an ordinary day, I would have laughed out loud, and that would trigger a string of jolly conversations and jokes. But this was no laughing matter. It was a grim piece of information that was capable of turning my world upside down. I wasn't the only one responsible for the situation, so I called the man whose potent seed had germinated in me. His name is Michael Owusu Addo, a renowned Ghanaian musician who is better known as Sarkodie," she further states in the book.
READ ALSO: 'It's Very Important For Us To Tell Our Own Stories'- John Dumelo
According to the actress, "Sarkodie was a budding musician with the potential to become one of the biggest artists in Ghana and beyond. At the time, however, the future looked uncertain, and his way through the maze of life still appeared too foggy to predict. Success was not guaranteed. He was still living with his mother and was not ready to carry a burden while he was being carried by his mother."
"I wouldn't call what had developed between us a serious relationship. I gravitated toward people in the music industry. For the longest time in my life, music was my getaway from all the unpleasant things life threw at me. So, I liked his talent. We started talking and got close. Closer."
Yvonne Nelson also indicated that the pregnancy at age 25 hindered her from participating in most acting activities, although she was only a budding actress when the incident happened.
"Having an abortion is one of the most regrettable mistakes in life. If the clock of time could be rewound to my younger self, I would keep it. But the benefit of hindsight is something not useful because the lessons learned cannot be applied retrospectively," the book captures.
Find a portion of the book below.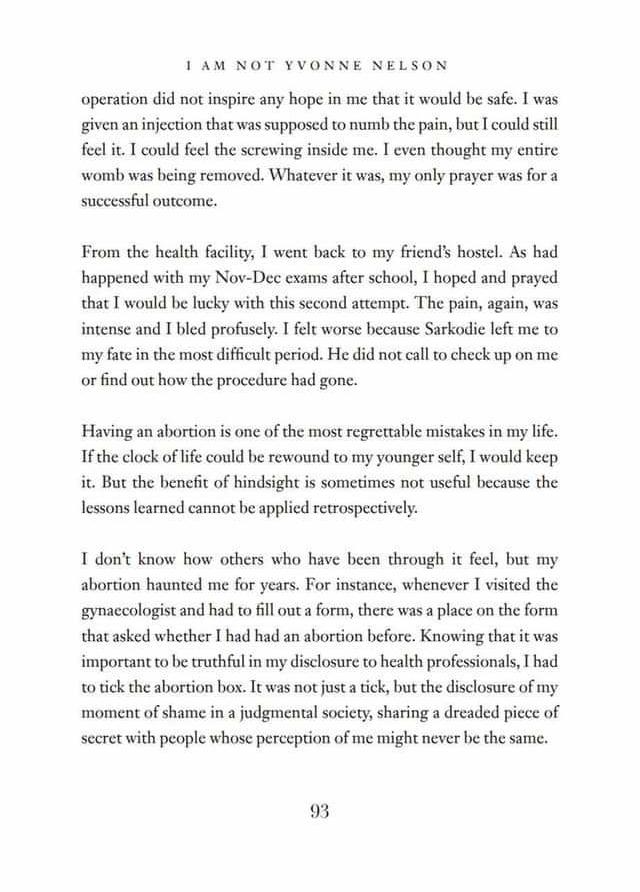 In her book 'I Am Not Yvonne Nelson', she gives an account of her struggles as a young woman on a journey to discover herself to be who she is now.
Although many fans of Sarkodie expect him to clear the air on whether the claim is true, he hasn't commented on the trending accusations yet.
SOURCE: www.Ghnewslive.com