Sarkodie, together with adaptable rapper and singer, Black Sherif, have played out their hit track, 'Country Side' in front of a crowd for the first time since the song's release.
Playing out the song on stage in London during the listening party of Sarkodie's JAMZ album, the two internationally known artistes entertained their fans with a magnificent performance.
The video of them performing live on stage has thrilled the fan base of Sarkodie, as well as Blacko's fans, as they witness their idols having a historic moment of excitement, entertaining their wide range of fans.
The diverse award-winning rapper, and steady rising rapper Black Sherif, have officially performed together on one stage for the very first time, which has gotten numerous netizens extremely excited.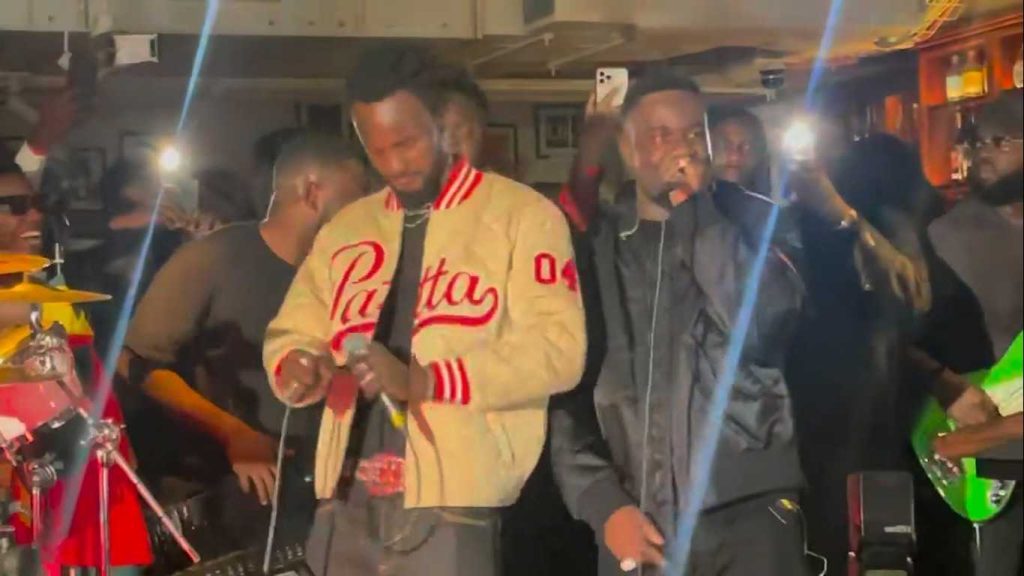 Blacko, as his fans lovingly call him, joined Sarkodie in front of a crowd in London for Sarkodie's album listening party for the JAMZ album. They performed 'Country Side', one of the most appealing songs on the album, as they excited their fans with a jolting performance.
They were both spotted in identical outfits as they wore classic leather coats, and gave a remarkable performance in London.
Upon viewing the two star-speeding artistes perform their hit song, 'Country Side', together on the same stage for the first time, fans of Sarkodie and Black Sherif have expressed their profound elation as they witness their idols take their career to the next level.
maabyna_papabi remarked: See how I forget even to take my medicine. I've lost count of the number of times I've watched it mpo
kwesi_takyi said: Been smiling throughout watching this
dhavidoquan said: Black and sark take Ghana to go far
dennisbonsu said: dennisbonsu refreshing to watch.❤️❤️
@chriskwillis remarked: @sarkodie forgets his lyrics during a live performance of his "Country Side" track ft @blacksherif_ and fills the gap with laughter.
@NanaYawBasoah1 commented: So beautiful flying so High higher and highest
@ojaygangster1 remarked: My country men performing country side outside our country. Grrr to the whole wiase