For the past couple of days, veteran Ghanaian Dancehall and Raggae artiste, Samini, has been one of the very vibrant celebrities to express his dissastifaction about the official theme song for the Ghana Black Stars in various tweets, calling it wack.
The legendary musician, has soon after his rants, released his own World Cup song after his stringent disapproval of Black Stars'officially endorsed theme song for the World Cup.
Ghanaians have reacted to Samini's song, and are pleased with the track so far, asserting that he is a man who puts words into action, and not only makes empty declarations without backing it up with feasible action.
The veteran artiste, has released a World Cup song of his own in the wake of trashing that of the Ghana Black Stars'. Samini, by proving his point, released his own World Cup song called 'Win Africa Win'.
The greatly respected musician took to Twitter to confirm his disappointment after the release of the official FIFA 2022 World Cup song for the Black Stars. Samini was of the view the song was underwhelming, and was not appealing enough for an official World Cup theme song.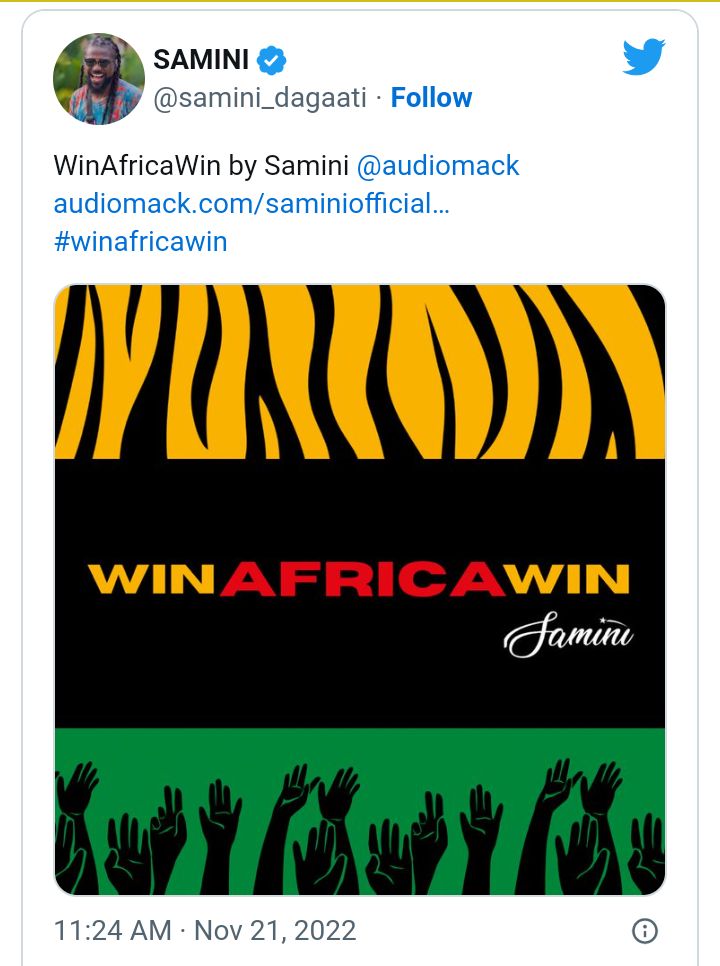 In his tweet, he said, "The new black starts song tho, do we have to learn it before the world cup? whoever chose it probably wrote it too. Eiiiii track na 3y3 ya saaa no! Hmmm. A few of us could have done a better job at that Chale anaa meeb)dam lol. but vim is still for the boys. Go Ghana".
Numerous people concurred with Samini and communicated their various disappointment at the song. They urged Samini to release a much more suitable theme song, and he did nothing short of that. Days after his criticism, Samini dropped 'Win Africa Win', a track which is meant be a theme song of praise for Ghana as well as for all of Africa.
Various individuals are very pleased with the veteran musician's efforts, and have commended him for establishing his musical ingenuity, by releasing a well tuned theme song appropriate for the occasion, as seen below;
kamalabdul123 was impressed: Eiii Samini indeed you bi music http://God.you go fit take do jama,you go fit take party,you go fit take grind woman the song bi everything.should be the official song for African teams
ck_mdoe was also amazed: Bruh just shoot a video for this na ibi banger
JabirGbambegu also wrote: Samini is not just talking. He knows the drill. He proved to the new acts how you did it over the years