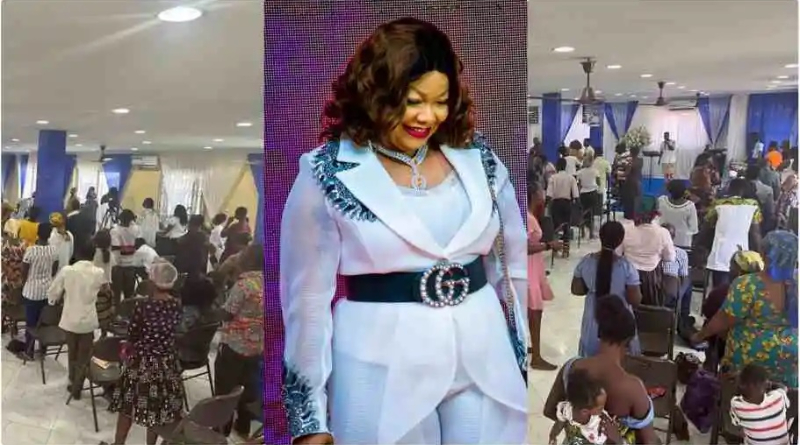 Naana Brown has stated that Nana Agradaa's church is a scam. Here is what
Nana Brown has descended on Nana Agradaa's church, calling it a big scam. Nana Brown is a popular social media influencer, she normally takes on famous people and exposes their reeking hypocrisy and phony lifestyles.
READ ALSO: Nana Agradaa giving the lord 'doggy' in church during a prayer session hits the internet.
She just confirmed the strong impression most of us have of Nana Agradaa, now known as Evangelist Patricia Oduro Koranteng, due to her fictitious conversion to Christianity from fetish priest.
She exposed the massive hoax surrounding Nana Agradaa's Ministry in this video that she posted, as well as the method she utilizes to bus villagers into her church's auditorium.
She suggested that Agradaa pays these people to come to the church and partake in the foolery such as fake miracles she enacts in the church.
While at it, a male voice could be heard in the background corroborating her story. Watch the video below;
Recently, a photo of Nana Agradaa, better known online as Mama Pat, posing awkwardly during a fervent prayer session in the church she recently started has gone viral on the internet.
Social media users have given their own interpretation to the picture as they centralise the charade she has been engaging in the house of God.
Some netizens concluded that it was a doggy style for the lord for him to know how serious she was with her prayer request.
Obviously, the internet is never a dull sphere at all and if you come across some of the comments being churned out, you will agree with this assertion. See the photo below;
Source: www.ghnewslive.com