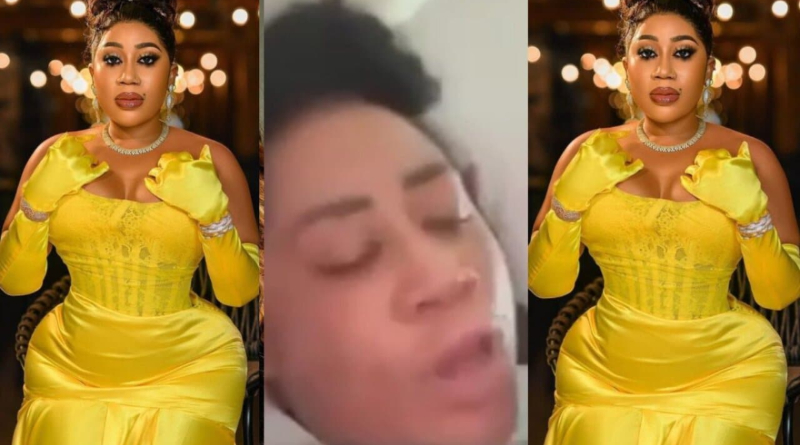 Moyo Lawal leak video – Moyo Lawal, a well-known Nollywood actress, is at the center of a scandal when her bedroom tape was released on the internet.
The famous actress may be seen in a video going viral on social media with her lover in the act of making love.
Moyo Lawal, who was well aware that her partner was filming the scene, could be heard encouraging him to focus and make her feel like a genuine lady.
Her unfazed demeanor throughout the bedroom adventure has left her admirers seething at her for agreeing to such an act.
The leaked bedroom tape has left her supporters divided over the stain it may bring to her reputation and being a role model to other upcoming stars.
READ ALSO: Trending video of SHS students kissing and chopping love in public causes massive stir
Reactions to the Moyo Lawal leak video
Panache wrote, "She was drunk in that video fcck!!! This guy took advantage of her"
Sir Salmjay penned: "This Moyo Lawal just get big yansh she no get skills in bed just dey there like a log of wood"
Chris Collection stated: "Blood of Jesus is this not Moyo Lawal? What was she thinking allowing a man to record her while having sex?"
Wet penned: "Why would you let a man record you while having sex? Especially you knowing you're a celebrity chai. Not even your husband sef, so how that man's face just shows maybe he wants to be popular with the Moyo Lawal sex tape who knows"
Bambam opined: "Moyo Lawal you're doing well"
Cabaye said: "Na Moyo Lawal Abi my eyes dey pain me. Anyways na s3xtape season".
Black Bulldozer wrote: "Did actress Moyo Lawal leak her s3x tape. Because wtf did I just watch. Not even with her husband".
SOURCE: Ghnewslive.com