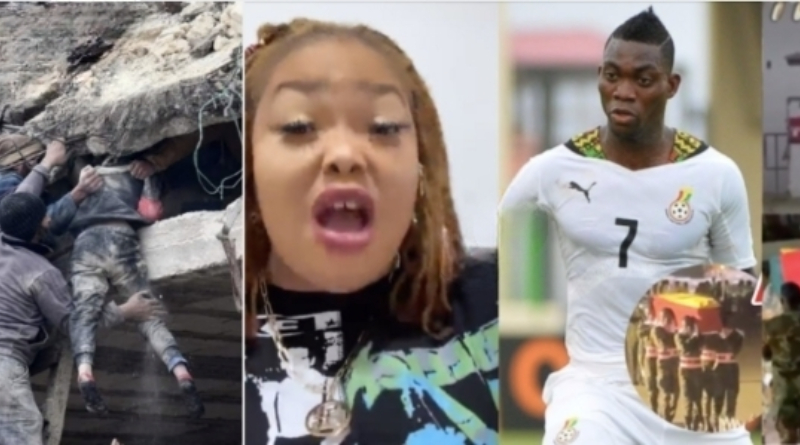 Nana Agradaa has come out to declare that, Christian Atsu's death is spiritual
Nana Agradaa now known as Mama Pat is a well-known prophetess in Ghana, has contributed her voice to the debate over Christian Atsu's undetermined cause of death.
You all are aware that Christian Atsu's untimely passing has sent a sense of sadness across the country as people lament his torturous departure.
Many individuals have posted on social media about how helpful he was to them and how long he has been a humanitarian.
READ ALSO: Nana Agradaa Arrests Husband for Allegedly Stealing One of Her Cars While In Jail
Christian Atsu's body was recovered two weeks after the earthquake occurred at Turkey. It was reported that Turkey experienced one of the biggest earthquakes of 7.8-Magnitude which caused the death of over 45,000 persons which includes Christian Atsu.
The mortal remains of Christian Atsu were brought back home yesterday, Sunday, February 2023 by Turkish airlines.
Several family members, friends, and well-wishers gathered at the airport to greet him back home and to express their sorrow over his passing.
In the aftermath of Christian Atsu's passing, Ghana's infamous prophetess Rev. Dr. Evangelist Mama Pat claimed that God had abandoned Atsu as a result of his covert transgressions, including Juju.
If Christian Atsu was a legitimate son of God, God would have saved him like he did others in the Turkey earthquake, says Rev. Dr. Evangelist Mama Pat, thus his death was illogical.
But, in the video below, Rev. Dr. Evangelist Mama Pat sheds additional light on the improbable reason of Atsu's demise:
SOURCE: Ghnewslive.com