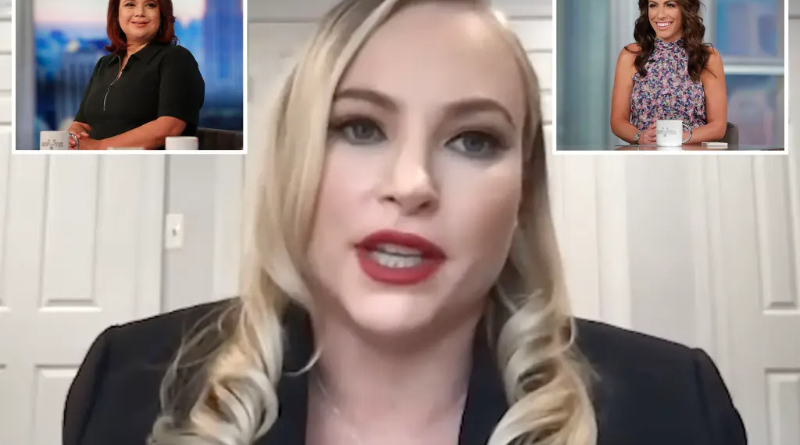 Who Is Meghan McCain?
A former co-host of The View on ABC, Meghan McCain joins the show in October 2017. While at The View, the program reached new heights and received two nominations for the Outstanding Entertainment Talk Show Host category of the daytime Emmys.
Meghan has grown up immersed in the high-stakes political world as the daughter of the late Sen. John McCain. Meghan has no qualms about speaking what she believes, boasting that she got "my dad's heartburn-inducing capacity to say what he thinks," which is frequently referred to as having the McCain "maverick gene."
McCain is a strong, unique role model for Republicans and Democrats alike who actively promotes LGBTQIA equality, social issues, and women's issues.
Meghan McCain's Comment
Meghan McCain has opinions about the "The View" co-hosts that took her spot.
McCain, 37, departed the talk program at the conclusion of Season 24 in 2021, and two new co-hosts, Alyssa Farah Griffin and Ana Navarro, took her place.
She said on Andy Cohen's SiriusXM show, "It took a year and two people to replace me, which makes me feel wonderful, and I get to take that."
When Cohen, 54, questioned the former talk show presenter about whether she knew Farah Griffin or had any opinions, she took the opportunity to disparage the family of the late Trump House communications director.
"I don't know her at all. The only thing I know about her is her family," McCain said. "She comes from an extremely, extremely controversial background."
Her dad is a very famous homophobe and racist who started birtherism," she claimed. "He's actually the person that invented Obama's birtherism. So that's what I know about her, and that's not necessarily a reflection of her.
The conservative personality said she "automatically" was not going to be in the same circles as Farah Griffin, 33, due to her family, specifically her dad, being "very, very known in political circles because of his extremism."
But McCain went on to say she didn't want to say anything "negative" in the wake of her own backlash from Sherri Shepherd.
"I don't want to say anything negative about someone who's doing that job right now," she continued. "I swore I would never do, quite frankly, what Sherri just did to me."
SOURCE: www.ghnewslive.com