A 72-year-elderly person has respectfully asked the sitting president of the Republic of Ghana, Nana Addo, to relinquish his hold over the office of the President, in order to fast-track the redevelopment of the nation's economy from its currently disastrous state of deterioration, to a far more better condition of rapid growth and stability.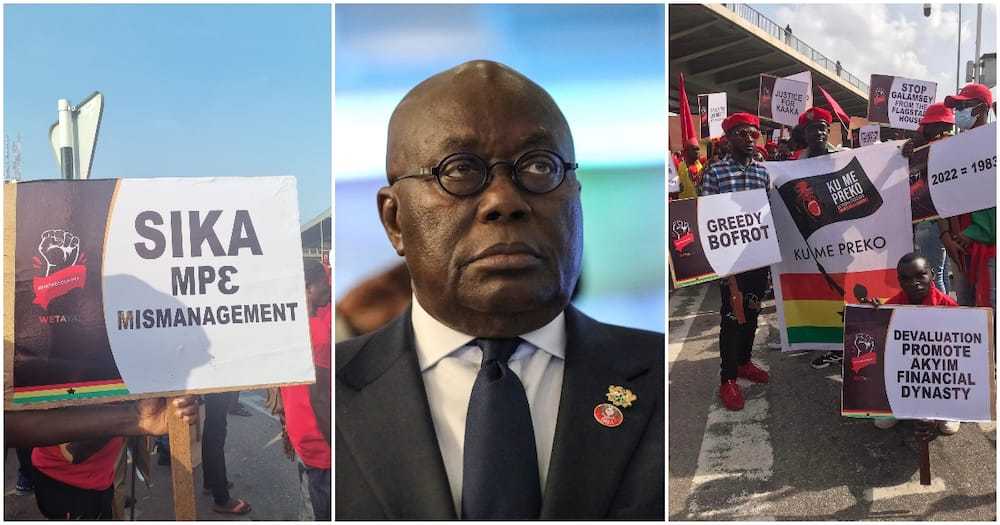 The Kume Preko Reloaded Demonstration, is presently in progress, as dozens of Ghanaians in their red formal attire and placards have been sighted on camera, furiously expressing their outrage through a non-violent form of demonstration against the president.
The demonstration, themed, (#NanaMustGo), is an ongoing street protest which was coordinated by confidential legitimate specialist, Martin Kpebu, and has been joined by various Pressure Groups, Economic Fighters League, and the #Fix The Country Movement.
The converged group of common minded citizens, are rebelling against the state of financial depravity imposed on Ghanaians by self-centered politicians, and what they say was effected on the economy by the two driving ideological parties, New Patriotic Party (NPP), and the National Democratic Congress (NDC) throughout their separated terms in power.
As a result of this economic unrest, a 72-year-elderly person, has been sighted in a viral video, crying and begging the president, Nana Addo, to do Ghanaians a huge service by stepping down as President, seeing as he has so far being able to do absolutely nothing, in terms of developing the country.