Female Ghanaian actress and entertainer, Kisa Gbekle, who has embraced the fact that she underwent surgery to improve her body features, has pointed fingers at Nana Ama Mcbrown, for deceiving Ghanaians.
As argued by Kisa Gbekle, Nana Ama Mcbrown never went for a liposuction procedure, instead the renowned influencer rather went for a BBL procedure.
Talking in an interview on Asaase radio, Kisa criticized McBrown for misdirecting Ghanaians about what she really went for, which is more broad than liposuction.
By aiming to expose the misinformation on the part of Nana Ama McBrown, she said, "there was something I was seeing on the internet, I am not going to speak against a senior person of mine but she was like she did liposuction to solve her excess skin, it's never possible".
"If you are listening to me and you have excess skin, liposuction can never solve your excess skin and I read about it because I wanted to know if what the doctor was telling me was true," she went on further.
After Nana Ama Mcbrown got back to our screens with a different body appearance, following an extended rest, she was under a somewhat obligatory mandate to give explanations about her new body changes.
During the explanatory period of clarification, she intimated that she went for Liposuction procedure on account of the abundance of skin tissue around her belly region.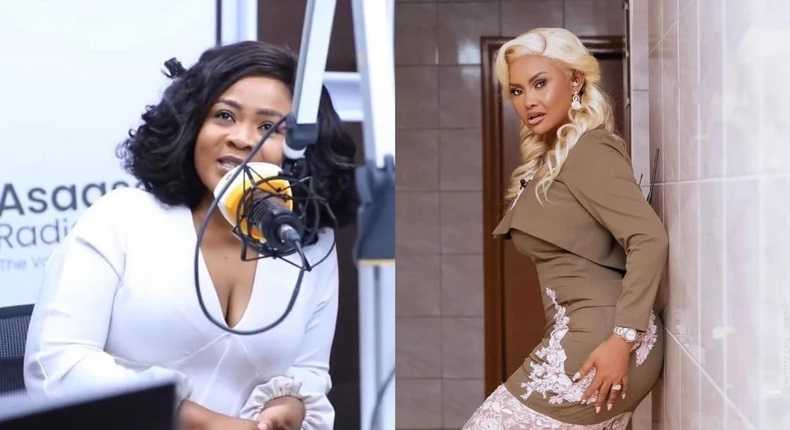 As indicated by Nana Ama McBrown, she merely opted for the liposuction procedure to clear off her droopy tummy without having to include the rest of her body, in the process.
She was severely lambasted on the web for using artificially modified measures to change her body looks, on the basis of her extended stay or existence in the entertainment industry, hence her recent adaptation of trendy characteristics from slay queens, ought to have been the last thing she should have done, considering her image and influence as a respectable role model.