Ghanaian social media socialite and predictor, Ibrah 1, has implored misfortune and negative outcome for Ghanaian reggae-dancehall artiste, Stonebowy.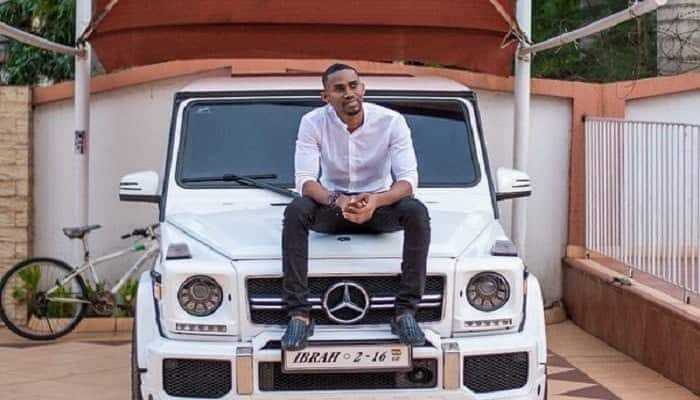 In the viewpoint of Ibrah 1, Stonebwoy will face a similar end as Nigerian Megastar, Davido, who lost his son, Ifeanyi two days prior, in a sad state of grieve.
The heavily disliked socialite, Ibrah 1, says Stonebwoy will encounter a similar aggravation as Davido, by losing one of his children, just as much as Davido lost his son two days ago.
In a Snapchat post, the despicable predictor, with no incitement or justifiable basis, expressed that Stonebwoy would soon lay one of his children to an eternal state of rest.
In his own words, he said, "Exactly what happened to Davido will happen to Stonebwoy. He will soon burry one of his children"
Ibrah 1's injurious remarks about Stonebwoy's family has set off alot of socila media users, who now wish destruction for him, as well as his children.
As per these furious individuals, Ibrah 1 will very soon, wake up to discover the harmful news about the demise of one of his children.
"Why would any sane perosn wish for the death of a fellows kid if not for witchcraft?", a furious observer angrily quizzed.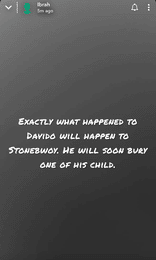 Take a gander at the various remarks of particularly angered folks who took to social media in a fit of rage, to lambast and lay curses on Ibrah 1, after he revealed the displeasurable prediction concerning the fate of celebrated dancehall artiste, Stonebwoy, and his family.
Ophelia Teye – And you shall receive this same pain in Jesus name on behalf of stonebwoy we offer you Rom 9:2 luke 22:45 Gen 3:16
Cisca Freda – We refuse in the name of Jesus Christ amen God protect our children please
Shirley Adoofo Allotey – We refuse it in Jesus Name. May your negative words backfire to you again in Jesus Name Amen
Lawrence Acheampong – I don't no why one will bring a innocent child into a feud he has with another nd wish his children such a painful exist.. this is inhuman
Agyapong Ellen – God will expose you very soon how can you wish ur fellow man such an evil statement like this!! Back to sender
Lucas Yaw Onai – May God forbid in Jesus mighty name Amen and Amen.
Felix K. Gyabeng – As you're bashing him then you are praying for him because no one can tell who is who and what can happen just as no one expected something like this to happen to Davido. We are in dangerous times
Stella Leke Tsetse – The blood of Jesus Christ has council that, it will never happen in Jesus name Amen