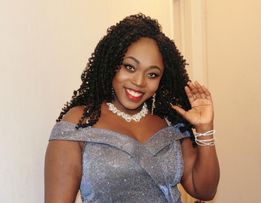 France based Ghanaians gospel Musician, NaaEfia Charlotte has narrated how she was humiliated in a Takoradi based church known as "Breakthrough Family Ministry" when she was invited to the church to perform at their revival.
She explained that the treatment and the humiliation by the church happened as a surprised to her and she wish that did not happened in church but rather outside.
NaaEfia Charlotte made these revelations in an interview with Takoradi based Rok 98.7 FM, explaining further what transpired, the ace gospel singer noted that "I was in Takoradi for a program one day. I had then finished and was rushing for home to go and rest and then set off from Takoradi the next day".
She said "while I was walking to pick a car, one of the pioneers of Breakthrough Family Ministry saw me and called me".
"He had seen my performance in one of the churches so he then invited me to a revival in his church [Breakthrough Family Ministry]. I accepted and he came to pick me up in the evening to the church".
NaaEfia Charlotte narrated that "I was then pregnant so doctors advised me not to wear high hill shoe so I put on a designed slippers for the performance".
"If you are someone who knows me, you would realize that I like spouting so it's not that I dressed anyhow on Sunday.
I don't joke with my Sunday dressings at all because in Ghana, you could see someone selling fish or charcoal but such people do not joke with their Sunday dressings at church at all.
She continued that "while I was sitting down waiting for my turn, the MC came to tell me the the pastor's wife ; Rev. Jayne Angelina Osei Tutu said I was in slippers so I can't climb the pulpit with slippers. He told me the man of God Bishop Samuel Osei Tutu had told them no one should mount the pulpit without high hills shoe".
"in fact, I thought they were joking and indeed I was not called to perform. I was surprise that in the house of God, they denied me performance because I was in slippers. It was humiliation and I nearly cried. Because I was pregnant I was advised not to wear high hills".
NaaEfia Charlotte said "I asked myself if it were to be any other star who was there…would they have asked him or her not to perform?"
She believed "this should not have happened in church".