Lady

reveals why she fed her madam's Daughter With her Urine.
It is very sad to torture the innocent. We have seen videos and heard the news about people beating and killing people who are innocent to what they are accusing them of. A lady has taken to Facebook in a post to confess the bad deeds she committed when she was a house help.
This is what she shared:
She worked with one of the richest couples in the twin where she was and they happen to be very busy with their job and other daily activities. They tend to leave the house and everything in it under her care including their child in their absence.
Read also: "Confused" – I Mistakenly Sent My "Nude Pic" To My Pastor Instead Of My Boyfriend And He Replied
Her madam delivered not long but she still leaves the baby girl with her for there are infant foods in stock at home. She confessed to feeding this innocent baby girl with her urine just because her madam delayed her monthly salary. She did this for a period and she also revealed that the innocent girl has passed on due to her actions.
She then went on to lament her experience at night or any other time she closes her eye to take a rest. She sees nightmares and horrible dreams about the innocent baby girl which put her in a whole state of mess.
Also, she sees her illusions when she is alone. She then thought it wise to confess her sins at this point and pleaded with netizens who came across the post to remember her in prayer.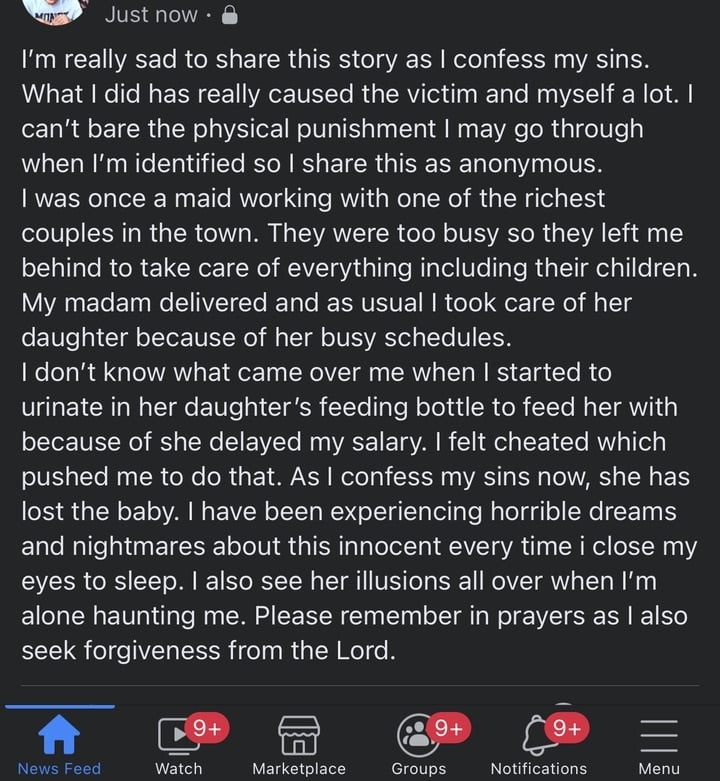 Content created and supplied by: Platinum1 (via Opera
News )