It appears to be certain that a section of individuals have made it a point not to let Fella Makafui have a semblance of harmony.
If you'd recall, a clergyman only recently revealed that he has insight ahead of time, that seeks to suggest that Medikal and his significant other, Fella Makafui, are deeply engaged in the fraud business.
He continued to give a harsh admonition to them to stop their unlawful dealings as quickly as they possibly can, in light of the fact that if they choose not to, they will encounter a lamentable end.
As if that alone isn't a huge enough scandal, presently, an Instagram user whose identity is known as @Amponsah1845, has implied that Fella Makfui is on Interpol's wanted list, and that she will be soon hauled away quite imminently just like Hajia4Real.
Upon noticing the remark of the netizen, Fella Makafui didn't at all go easy on the pundit who wished her unfortunate outcomes in the comments section of photographs she shared on her Instagram page posted close to a Chevrolet Corvette.
Take a look at the post below…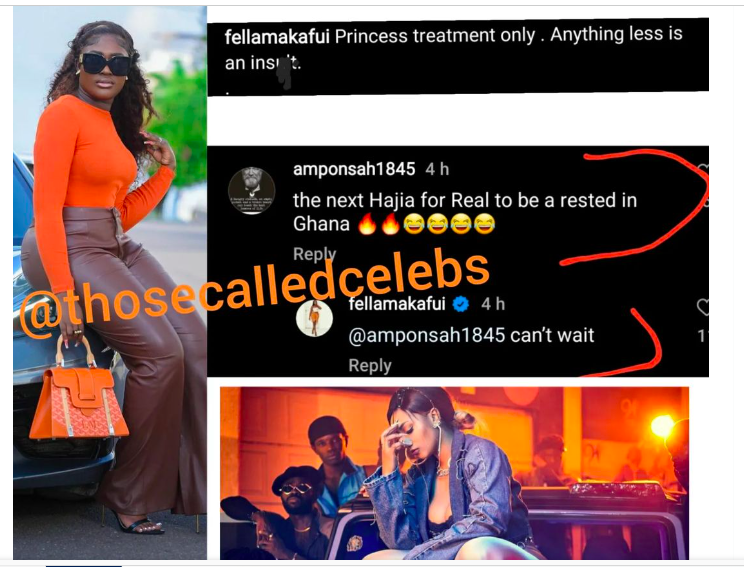 One would think that the actress would bow out from an open confrontation on the internet, especially with recent events and rumours circulating around social media, about her marital instability and troubles.
On the contrary, Fella Makafui, based on this current reaction, has showed that she won't tolerate any sort of contemptible remarks from netizens, who pride themselves on causing chaotic situations on social media.