Various social media users have given dissenting opinion points with respect to the new look of Ghanaian politician, agricultural enthusiast, and actor, John Dumelo.
John Dumelo is known to have a specific hair style and a very much shaved facial hair growth. Nonetheless, the celebrity and politician has changed his looks by shaving all his facial hair, as well as changing his well known hair style.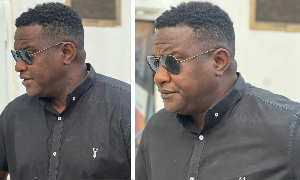 Based on his new physical appearance, some social media users have asked why John Dumelo shaved off his facial hair, whiles others suggested that the financial difficulties in the country has caused John Dumelo to grow grey in his hair.
Take a look at some of the remarks opined by a couple of netizens beneath…
@Akotowhitney: He is not growing younger anaaa 😏 kids are even getting grey hair 😃 i beg leave him alone
@kojo Grey: I can tell most ladies dunno when you take off your mustache it makes you look older. Tell your beard gang boyfriends to shave their beards and most of you will leave the relationship. In conclusion shatta wale isn't ugly he just likes to shave his mustache
@Alhajiba_guyguy: Eiiii I didn't see him oooo,he has grown older papa ei .in all we thank God for his life 🙏
@Emmanuel: He has got new knowledge and growing in wisdom these are sometimes the signs (grey hair) buh a lot of people don't respect that
@Akosua quist: Eeeiiiiiii people can't grow grey hair in peace again? He's looking handsome tho. He hasn't lost it at all.