A furiously disappointed, self-identified devotee of Ghanaian rap boss, Sarkodie, has devalued his most recent album collection, called 'JAMZ', summarizing the entire project as a one-way album.
The adherent admirer, known as Kwasi Osei-Danso Ofori-Atta, boldly stated that he was unmoved and especially unimpressed with the SarkNation boss' recently released music collection.
As indicated by him, each and every track on the released music collection aren't anything unique, because they all sound exactly similar.
The disappointment fan expressed his remarks by saying, "Chief, I have to be blunt and honest…your work must grow from these amateurish rap lines…Any ardent folower of your craft can tell you, there are lines that feautre in all your rap tunes. Get up boss, and stop telling us the same things you've been telling us for 20 years."
He proceeded forward to express some insightful habits Sarkodie ought to include in his rap career, in order to move his art to a higher level.
Carefully glance through the critique beneath…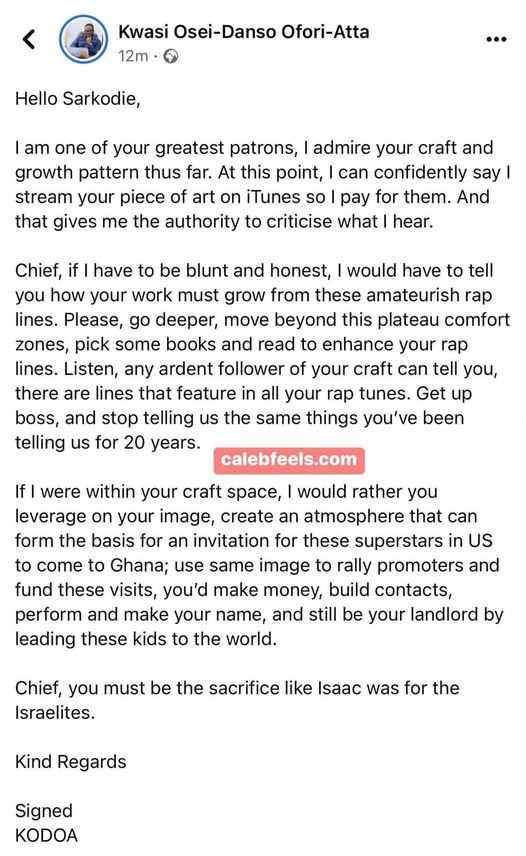 A subsequent fan of the rapper equally concurred with the first fan, as he also stated on the record that, "Had same in mind when I was streaming the album this dawn. The only song that sounds different is the one Black Sherif featured. I like this kind of analysis. We all can't go the same way. But you put across your analysis in a beautiful way like this."
King Sark released his eighth consecutive studio album collection known as 'JAMZ', at 12 midnight on November 11, 2022. As of now, his track 'Country Side', featuring Black Sherif, is the one song on the album making waves on social media, as music lovers have taken an irresistible liking to it, on a short notice.