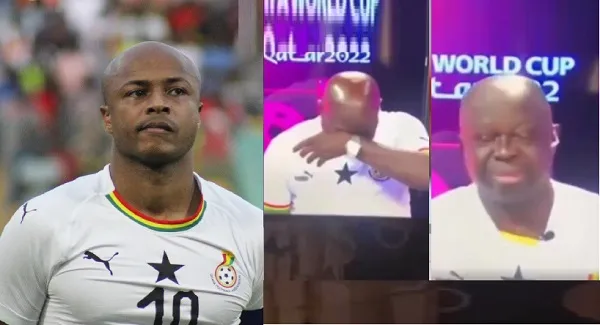 Veteran sports journalist, Kwabena Yeboah, couldn't simultaneously control himself and his feelings, after Ghana's captain Dede Ayew, missed a critical penalty shootout against Uruguay at the 2022 FIFA World Cup.
Ghana's earliest attacks on the Uruguayans in their field of play, brought about a penalty in the 19th minute of the game.
The penalty call, given by referee Daniel Siebert after a long deliberation process with the video assistant referee, was created by Kudus, who was impeded by the Uruguayan goalkeeper, in an attempt to give Ghana a lead goal in the first half of the game.
Andre Ayew, being the captain of the team, decided to take the shot for the Black Stars.
Sadly, the Uruguayan goalkeeper headed the same path as Dede's ball kick was directed towards, making it easy for him to punch out the ball, to the disadvantage of Ghanaians, who can't help but reflect and relive excruciating past experiences, going back 12 years, dawned on them as a result of unfortunate turn of events.
In the wake of Andre Ayew's missed penalty in the match, Kwabena Yeboah, who was in the studios with John Painstil and Damba as his panellists, lost his grip and composure, as he wept, most likely indicating a terrible sign for the Black Stars after the lost opportuinity.