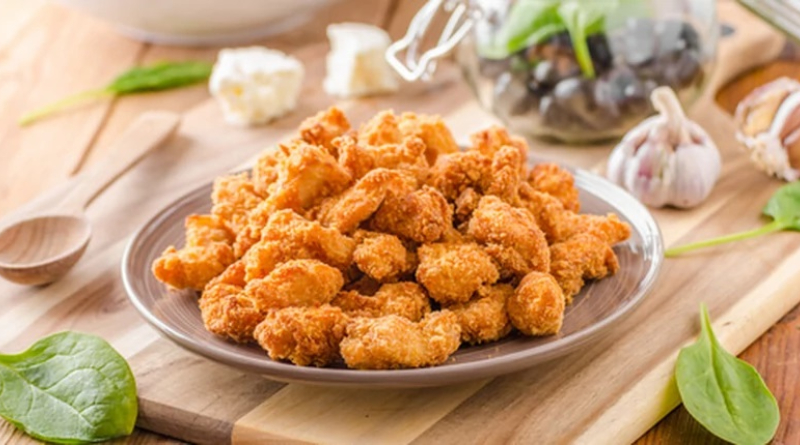 Chicken popcorn is a tasty way to vary your normal meals if you adore chicken. Chicken popcorn is just chicken that has been fried into little bits that resemble popcorn.
Ingredients for making chicken popcorn
1 lb chicken tenders, cut into bite-size pieces
1 cup buttermilk
1/2 teaspoon salt to taste
1/2 teaspoon black pepper to taste
1 cup all-purpose flour
2 teaspoon baking powder
1 teaspoon smoked paprika
1 teaspoon garlic powder
1/2 teaspoon onion powder
1/2 teaspoon dried oregano
1/2 teaspoon cayenne pepper
1/2 teaspoon ground black pepper
1/2 teaspoon salt to taste
Oil to deep fry
Method for making chicken popcorn
Marinate the chicken pieces with buttermilk, salt and pepper for at least 30 minutes
In a bowl, combine flour, baking powder, paprika, garlic powder, onion powder, dried oregano, cayenne pepper, black pepper and salt. Dredge the chicken into the flour mixture pressing to coat evenly.
Repeat the same with the remaining chicken pieces and place them on the prepared baking sheet. Meanwhile, heat oil for deep frying.
Fry the chicken pieces in batches until golden and crispy for 3-5 minutes. Drain the fried chicken and transfer it to a plate covered with kitchen tissue to absorb the excess oil.
Serve time…