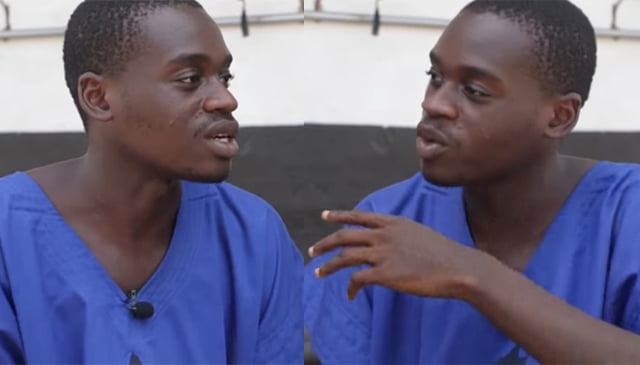 Stephen Kwadwo Appiah is a 20-year-old man who found himself in Kumasi Central Prison without knowing what crime he committed. He shared his sad story.
Stephen Kwadwo Appiah's story is very sad to the extends that he was arrested without knowing what he did and the number of years he had been given. The 20-year-old man is said to battle mental illness.
He made it known that it all started the day went to visit one of his uncles, he was served or given food to eat, and right after eating the food, the mental illness strayed right there. He then went back home to his mother who also got confused and send him to Bishop Obinim's church for healing since she is a church member.
Read also: Should I Stop Going To Church? After Seeing This In The Bible? – A Man Has A Question
While Stephen was at the prayer center, his illness became serious and this young man was put in chains at church premises as he was receiving directions daily. Stephen also recounted that he used to bathe with oil and water but there was no improvement.
He continued the story by letting us know that, one day he just got loosed out of the chains and went outside of the church. As he walked down the road, he met two men who started walking with him. Later the men run and left him in the middle of the road and residents around started shouting that he was a thief.
According to Stephen, he was caught, and beaten before being taken to the Police station. This young man made it known that he came back to his senses when he found himself in prison, not knowing what he did and his family members only got to know he was in prison after a man from their community returned home from remand and told his family about him being in prison.
Stephen sadly said that the very first day his mother saw him in prison she fainted and his family always bursts into tears anytime they visit him in prison because he was a good young man and they had no money to help in his situation.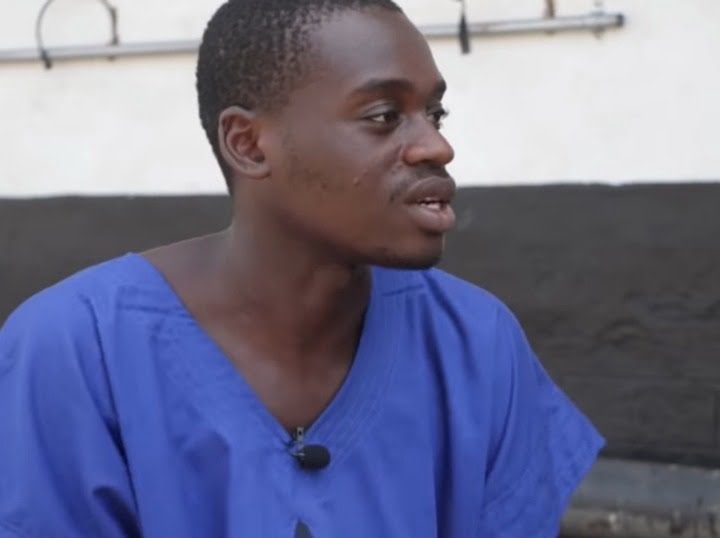 According to one of the prison officers, Stephen was brought in for committing robbery and jailed for 25 years. However, the Police said his file was missing after the court caught fire. Stephen lamented on how Bishop Obinim had neglected him and his family.
Because this incident happened while he was in his church and his mother had served the church for 9 years, but the Bishop did not help them in any way. In prison, the illness does come and he starts throwing things all around. One prison officer added that he almost lost his life one time when the attack came. The residents could have assumed him to be a thief due to his condition.