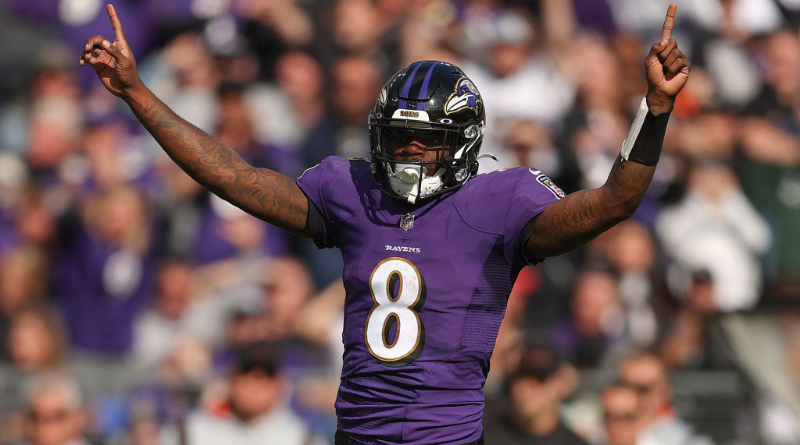 Is Lamar Jackson's refusal of $250 million haunt him?
Nobody in the NFL is paid as much as a quarterback. Sure, premier receivers, linebackers, and defensive linemen can command multi-year contracts in the millions of dollars, but quarterbacks are the most valuable to any NFL team.
To wit, quarterbacks earn the top 12 salaries in the NFL this year. Someone who isn't on that list? Lamar Jackson, who is expected to sign a large contract when he becomes a free agent next season.
Jackson has set such lofty goals that he turned down a $250 million contract extension with the Baltimore Ravens this offseason.
Is this a smart move by Jackson or crazily short-sighted? Well…it could turn out to be both.
The extension would have brought Jackson's total contract value to $274 million through 2027. He would have earned just more over $23 million this season, with the agreement beginning in 2023. Jackson had no objections to the whole amount of money. He was more concerned with the overall amount guaranteed at the time of signing.
The Ravens immediately gave him $133 million in fully guaranteed money when he joined. However, he observed what other quarterbacks, like Deshaun Watson, were doing. This offseason, Watson signed a $230 million contract with the Cleveland Browns, which was fully guaranteed at the time of signing. That is Jackson's sticking issue.
Other quarterbacks with large contracts this offseason include Russell Wilson ($242.5 million total, $48.5 million per year, $124 million guaranteed at signing) and Kyler Murray ($230.5 million total, $46.5 million per year, $103.3 million guaranteed at signing). If Jackson had signed this deal, he would have made more in total money, annual pay, and money guaranteed at signing than both Wilson and Murray.
Instead, Jackson will exercise his existing contract's fifth-year option. He'll earn slightly more than $23 million this season and hopes for a better deal next summer. If the two parties cannot reach an agreement, the Ravens will almost certainly tag Jackson with the franchise tag.
This narrative has an interesting twist because the Ravens were in nearly the same scenario a decade ago. Joe Flacco was their quarterback at the time. Flacco, like Jackson, placed a gamble on himself.
Flacco was pleased with the outcome. He led the Ravens to the Super Bowl while tying an NFL record with 11 touchdowns without an interception. He received a six-year, $120.6 million contract that summer. It was a QB record at the time.
Jackson is hoping for the same outcome. For the time being, he'll have to go out and have another tremendous season, possibly his greatest yet. If he can pull it off, he'll get his fairy-tale ending, complete with a hefty payment.
SOURCE: www.ghnewslive.com