Shatta Wale was at the 10th edition of Rhythms On Da Runway, and he shared the stage with Duncan Williams' daughter, Elsie Duncan Williams, who happens to be the first child of the profoundly adored clergyman, as they performed his hit song, 'Bullet Proof'.
The video ignited fascinating responses among numerous online media users, who were dazzled with their symbiotic performance.
The self-acclaimed Dancehall king, excited an invigorated crowd at the 10th version of the Rhythms On Da Runway show on Sunday, November 20, at 'The Dome', situated at the Accra International Conference Centre.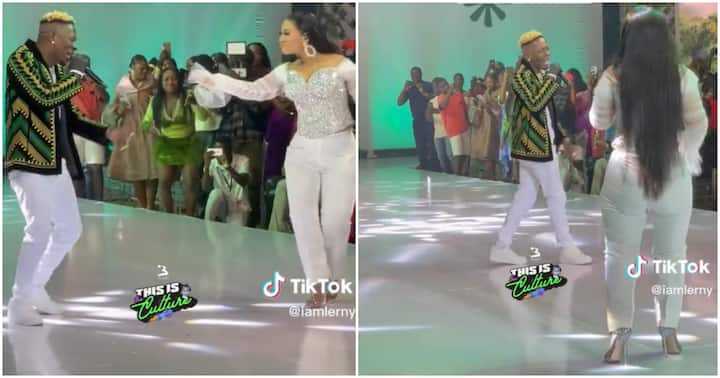 The 'Cash Out' hitmaker, performed with a surprise guest, Elsie Duncan Williams, the first daughter of renowned clergyman, Archbishop Duncan Williams, during the event. The dancehall artiste and the lovely lady played out Shatta's famous hit tune 'Bullet Proof.'
The gorgeous lady and Shatta Wale had the crowd hyper-excited, as they played out the delightful tune. The two personalities looked trendy in their all exclusively white outfit.
A couple of folks were shocked to see the pastor's beloved offspring perform with Shatta Wale. Others couldn't help but compliment her looks in an unexpected way, as they indicated that she shared a striking resemblance to Hajia4reall.
The Rhythms On Da Runway show was captivating as a category of notable bigwigs graced the event. Among the list of such noteworthy figures to grace the event, were Rocky Dawuni and expert real estate entrepreneur Nana Kwame Bediako (Cheddar).
Some fans have expressed their sentiments upon watching the two distinctive figures, Elsie Williams And Shatta Wale, perform on a stage unlike never before.
Israelhans: From afar you will think that's Hajia for real oo
joycelyn236 gavivina also wrote: Papa's children love music
richardokai422 also commented: The dance moves though
Sympathyoheneba was also impressed: His daughter is beautiful waooow
mila made a funny expression: we've to investigate our Archbishop cos it seems he has an unfinished business which his children are willing to finish for him