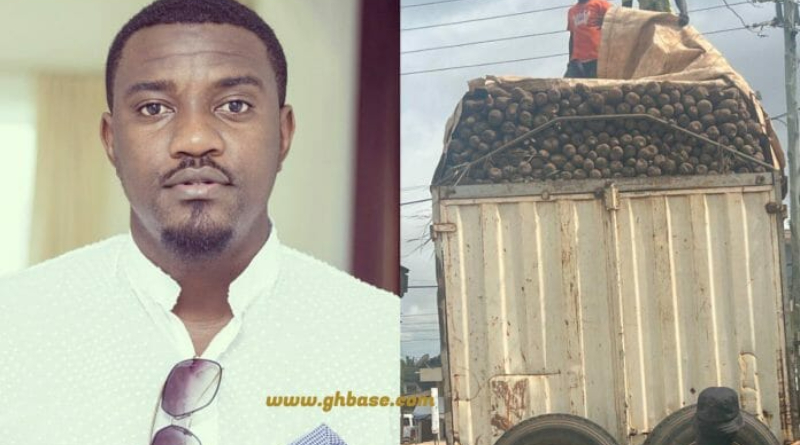 John Dumelo brings a truckload of yams to Accra to sell
Internet users praised John Dumelo after he boastfully posted on Facebook that a truckload of his farm's produce, specifically yams, had arrived in Accra and was prepared for sale.
READ ALSO: John Dumelo Gains Prominence With Agricultural Ambitions
The politician and actor has dabbled in agricultural, and, as seasoned journalist Israel Laryea noted in the comments section, he has attracted young people to agriculture.
In addition to disclosing the tuber costs, John said during the announcement that his company is prepared to deliver yams to customers' doorsteps for a nominal fee.
He posted; More of my yams( Pona) have arrived in Accra. 12gh for one. Free delivery for orders above 20 tubers. For orders below 20 tubers, delivery is 9gh. . Pls send me a message if you need yams. . I Dey 4 u
See reactions;
Mahmoud Jajah: I think the African Development Bank Group should make you an Agric Ambassador for Africa to encourage more young people into Agriculture. Efo, you're doing very well!
Israel Laryea: Way to go, John. More of such. Thank you for making agriculture attractive. God bless you.
Maame Biamah Akwafo: Hard work pays. You're worthy of emulation. I'm so proud of you. Keep up the good work. Will get in touch and buy some
Awuni Princess Tindan Inusah Abdulfatawu: non6, is the yam going to fly from Tamale to Accra ? Won't the person pay transport to get it delivered to Accra ? The person Will again pay transportation to and fro to the station to collect it. That might even cost u 20gh per yam adding all the transportation cost . Some of you are just impossible. Go n do your own business on your page and stop trying to spoil someone's business .
SOURCE: www.ghnewslive.com