One of the Rastafarian boys who was denied admission to Achimota School has won a major award.
The boy whose name is Oheneba Nkrabea is now a student of Ghana International School (GIS) and per what we gathered, he has been honored with an award for being a kind and respectful student.
This was made known in a recent Facebook post by Manaa Myers and the post reads;
"Our character was questioned because we carried our natural God given hair to school. We were called wee smokers who would corrupt "well groomed" children in the school.
They were not ready to give us any chance at the Prestigious Achimota school because we were not fit to be part of an elitist school because of our natural hair.

But we said no, we have right to education and fought for our right; and alas a court of competent jurisdiction granted us our right to education. Thank God for the generosity of some old students of Ghana International School who sponsored Oheneba Nkrabea to attend the Prestigious Ghana International School.
He is well accepted and that have boosted his confidence level to 110%. He is a totally different person now to the amazement of all of us. We are forever grateful to Ghana International School.

A year on today and he is doing amazingly well and affecting lives positively.
Congratulations Oheneba on your award for being a kind and Respectful student at Ghana International School.

And to those who judge people's character by thier looks, before they experience them, i hope you learn from this."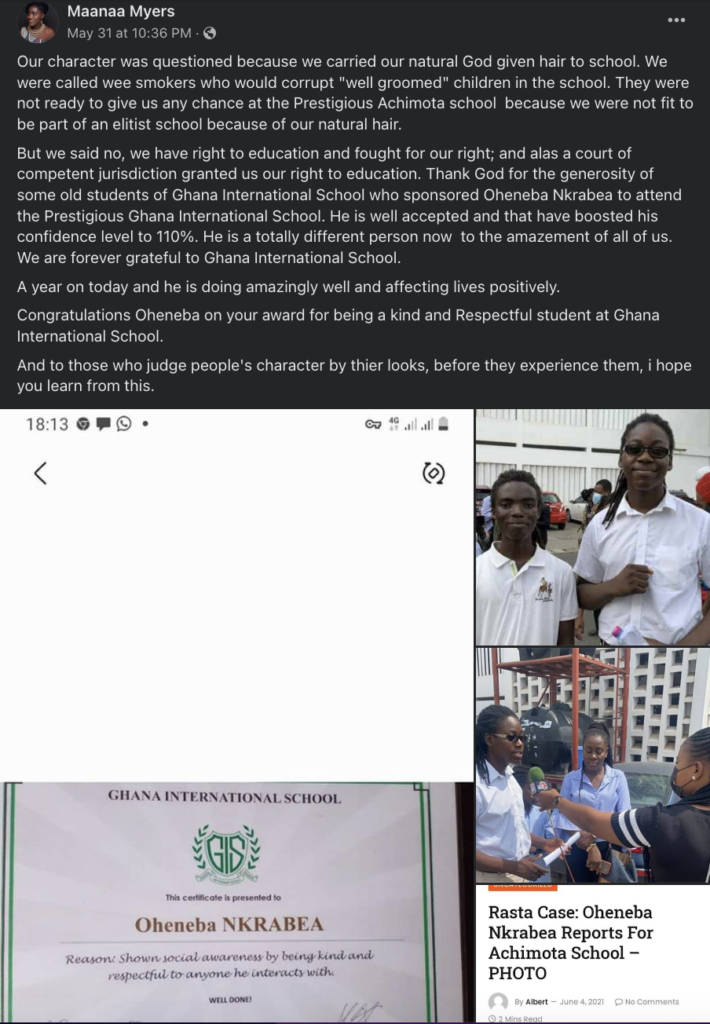 Source: www.ghnewslive.com