Ghanaian hiplife artiste, Okyeame Kwame, and his son, Sir Kwame Bota, are set to be casted in the internationally scripted movie Pentatonix: Around the World For The Holidays.
The film, with a scheduled release date set in December 2022, will air on the global web-based steaming channel, Disney Plus. The news of Okyeame Kwame's movie feature with his son, has ignited a huge response from Ghanaians, who took to social media to applaud Okyeame Kwame's accomplishment.
The Ghanaian hiplife legend, and his son, Sir Kwame Bota, have made Ghana proud on a worldwide stage. The father-son combined personality duo, will make a feature in Disney Plus's movie, Pentatonix: Around The World For The Holidays.
The Christmas film will be premiered on December 2, 2022, on the global streaming platform Disney Plus, as announced before.
The trailer of the movie, saw Okyeame Kwame and his son embellished in rich and beautiful kente garments as they display the Ashanti culture.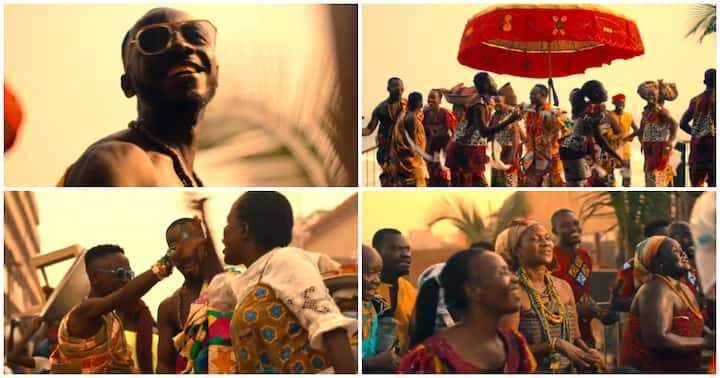 The trailer likewise includes scenes featuring other Ghanaian traditions, including the famous Takoradi masquerade, as certain scenes of the movie was shot at the well known Makola market.
The film rotates around Pentatonix, the world's most renowned a capella group, who need motivation for their yearly holiday album. The group encounters a delay in their determination, when their manager had them locked in a magical mailroom.
After their setback, they end up touring all over the world, and uncovering holiday traditions from Pentatonix fans from Ghana, Japan, Mexico, among other countries.
Ghanaians have responded to the news of Okyeame Kwame and Sir Bota's casting role in the upcoming movie, Pentatonix: Around The World For The Holidays with excitement, as they express their gladness and enthusiasm for the movie's premiere schedule, as seen below;
@YawSanogo: Bra Kwame sending Ghana out there
@Bigchillccg: Congratulations bra Kwame
@ManueLiverpool: Wow…nice one. The way @Okyeamekwame displays the Ghanaian culture (Ashanti) is
@amkojobaafi: Go Ghana
@godbeforus: Proud Ghanaian
@SamKwasiBoateng: Nice one from @Okyeamekwame. Solidly building the #madeinghana brand for years now