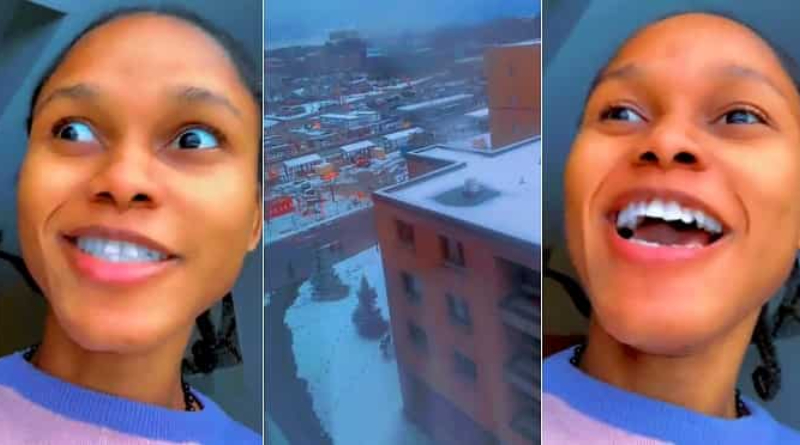 Nigerian Lady Screams as She Sees Snow for the First Time
There is a Nigerian lady trending online for a surprising reason, she is by the name Precious Kolawole. In the video, the lady was seen extremely happy as she witnessed the sight of snow for the first time in Canada.
This video drew our attention after netizens started sharing and reacting to it massively. The lady was also seen screaming happily as the snow fell on the roof of different buildings in the country. She shared a clip of her view from the top of a building which she described as 'heaven on Earth.'
READ ALSO: Female Carpenter Ama Endorsed Drops Another Set Of Her Thingy
"I cannot contain my excitement. I saw snow for the first time today. Is this heaven? Heaven on Earth?", she said.
Social media reactions
Shutterbuoy said: "Y'all need to stop acting like this fr it's sickening."
IamRiddy commented: "He'll yeah! First snow of the year dropped today in Montréal, I was dam nervous and pissed like, I have to deal with this nonsense for another 5 months!"
Ogbeni JayBee reacted: "It looks like you loved it. It appears you live in a condo. You can better experience the season living in a house with a yard. Just that with living in a house you might have a rethink after a few snowstorms, clearing your driveway, and spending more time dressing up."
SOURCE: www.Ghnewslive.com