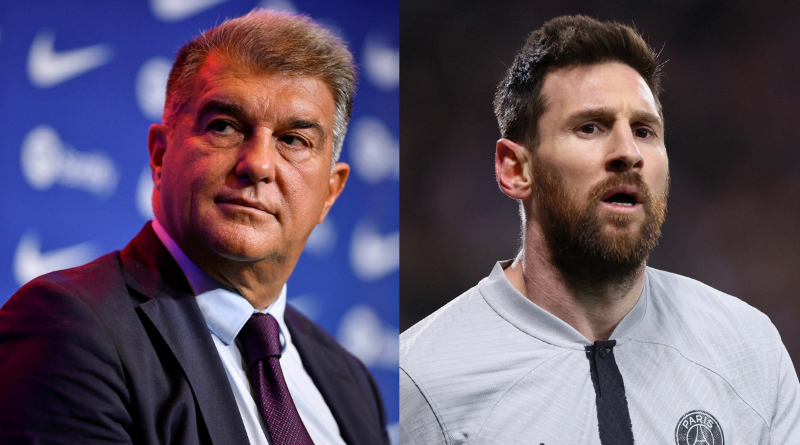 Barcelona president Joan Laporta told ESPN that seeing Lionel Messi in Inter Miami shirt is a "strange feeling," but he wishes the striker the best in MLS.
Lionel Messi in Inter Miami shirt is something most of his fans are happy about. The 36years old left Barcelona for Paris Saint-Germain two years ago, but the Catalan club sought to re-sign him when his contract with the French club ended earlier this summer.
Al-Hilal, a Saudi Arabian club, also offered Messi a contract, but the Argentina international chose Inter Miami, where he has scored three goals in his first two games.
"It's a strange feeling," Laporta told ESPN of watching Messi play in the United States. "We identify Messi with Barcelona. That's the way I think most supporters see Messi, because most of his career has been at Barca.
"But we respect his decision and we wish the best for him. We want the best for our players. He came to Barcelona as a kid, 14-years-old, and he spent 20 years with us. I hope he can be very happy in Miami."
Former Barcelona colleagues Sergio Busquets and Jordi Alba have already joined Messi in Miami, and Luis Suarez has also been connected, however insiders have told ESPN that the Uruguay striker will remain at Gremio until at least the end of the year.
Laporta said he understood Messi's desire to take on a fresh challenge in the United States, even though Barcelona had financially authorized his future return to LaLiga.
"It was very close," the Barca chief added. "We had to manage our financial fair play situation so we needed time. At the end, we reached an agreement with LaLiga that authorised us to add him to the squad.
"But Leo was coming from a situation in Paris where he was under a lot of pressure. His father told me that he needed a place where he won't be under pressure and at Barca that would not be the case because of the meaning of the return of our hero."
During his 21 years at Barca, Messi became the club's record appearance holder and top scorer, scoring 672 times in 778 games. He won four Champions Leagues, 11 LaLiga titles and won the Ballon d'Or on seven occasions.
"In Miami, it is different for him, it's a new league for him, one that is improving and Messi can help with the developing of the league," added Laporta.
"With Busquets and Jordi Alba as well, maybe Luis Suarez. It will be very attractive for the fans in the United States. So he preferred to go to Miami. We respected it and understood his decision."
Messi has made a fast start to life in South Florida, scoring the game-winning free kick on his debut against Cruz Azul in the Leagues Cup and then adding a brace in a 4-0 win over Atlanta United FC on Tuesday.
In California, meanwhile, Barca finally kicked off their preseason with a 5-3 defeat against Arsenal at SoFi Stadium in Inglewood as part of the Soccer Champions Tour they are taking part in.
SOURCE: www.Ghnewslive.com