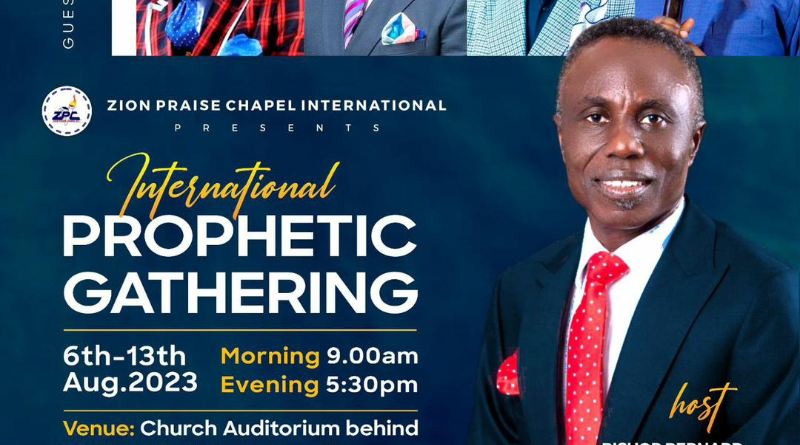 Bishop Bernard Ogyiri Asare, the esteemed Presiding Bishop of Zion Praise Chapel International, is delighted to announce the highly anticipated 26th Annual International Prophetic Gathering – IPG 2023, under the Theme "Empowerment, taking place from Tuesday to Sunday 13th August at the Church Auditorium, Effia, Takoradi.
The International Prophetic Gathering, a flagship event in the spiritual calendar, will bring together renowned seasoned speakers and talented musicians to inspire, empower, and uplift participants. This year's gathering, held under the compelling theme of "Empowerment," promises to be a life-changing experience.
International Prophetic Gathering
Event Details:
Dates: Sunday 6th – Sunday 13th August, 2023.
Venue: Zion Praise Chapel International Auditorium, Effia, Takoradi.
Time: Morning Sessions 9:00am – 1:00PM
: Evening Sessions 5:00PM daily.
Theme: "Empowerment"
Guest Speakers:
Pastor Matthew Ashimolowo (UK)
Bishop Abraham Chingbundu (Nigeria)
Apostle Joshua Selman (Nigeria)
Pastor Amos Fenwa (Nigeria)
Host Minister: Bishop & Rev. Mrs. Ogyiri Asare.
Song Ministrations:
Prayerfully selected Gospel Musicians have been billed for this year's conference. They include:
M.O.G
International Worship Leader Papa Richie (U.K.)
Akesse Brempong
Perez Music
Deacon Gideon Fase
IPG Mass Choir.
This year's Gathering will feature power-packed morning and evening sessions, designed to equip participants with spiritual insights, relevant knowledge and practical wisdom for winning in life.
The morning sessions will include a special School of Ministry for pastors and business leaders under the theme "Empowered To Break Barriers." This seeks to deepen their understanding of the dynamics of work and enhance their leadership skills to break barriers, limitations and take new territories.
"We are thrilled to organize the 26th Annual International Prophetic Gathering at Zion Praise Chapel International," said Bishop Bernard Ogyiri Asare. "Our aim is to create an atmosphere of empowerment, where individuals can be transformed by the power of God's Word, relevant skills, receive prophetic revelations, and experience personal growth. We believe this event will be a catalyst for change and impact in the lives of all participants."
The lineup of the guest speakers, including Pastor Matthew Ashimolowo, Bishop Abraham Chingbundu, Apostle Joshua Selman and Pastor Amos Fenwa, brings a wealth of knowledge and experience to the gathering. Their teachings will inspire, challenge, and empower participants to reach their full potential in their spiritual, personal, and professional lives.
In addition to the powerful messages, participants will be uplifted by the soul-stirring performances of renowned musicians M.O.G, Akesse Brempong, International Worship Leader Papa Richie (U.K.), Deacon Gideon Fase, Perez Music and others who will lead worship, praises and special ministration sessions throughout the event.
The morning sessions will commence from 9:00am to 1:00pm, focusing on equipping pastors and business leaders with practical tools for success. The evening sessions will begin at 5:00pm, offering an atmosphere of worship, transformative teachings, prophetic ministry, miracles, healing and power ministrations.
"We are convinced that Jesus will show Himself alive by many infallible proofs, convincing demonstrations and unquestionable evidences in this year's prophetic conference," said Bishop Bernard Ogyiri Asare.
Security Measures
Paramount interest to us as conveners is the security of the congregation. We are, therefore, assuring all congregants that, the 26th IPG is under tight security surveillance, for "we are not ignorant of the devil's devices"
The Western Regional Police Command will be duly informed about this event to provide the church with security personnel dailv to irotect evervone present at the event
Projecting a total of 50,000 patrons, we have made further arrangements lot private security details in addition to the Chang Police Personnel. We will not leave any security detail unexamined during the conference.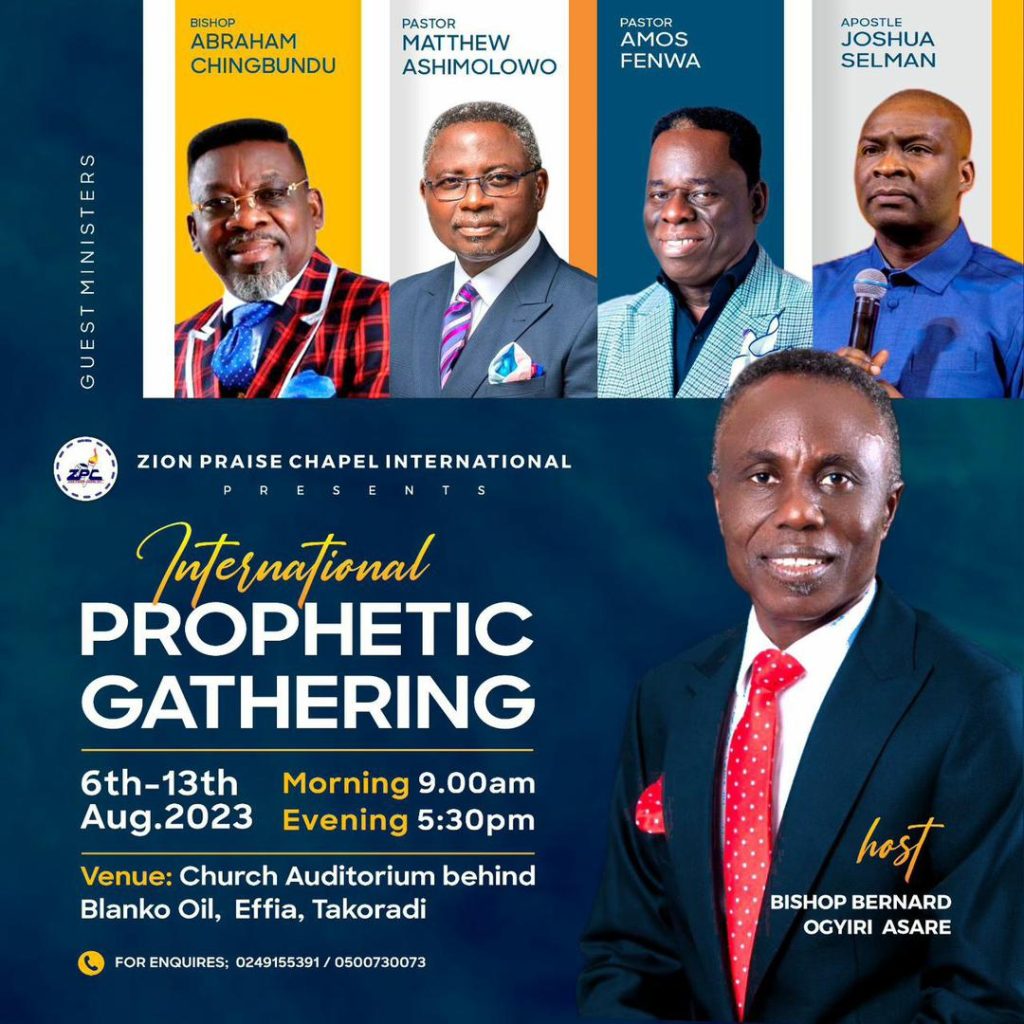 CONCLUSION
With countless testimonies from the previous IPGs, I know the God of covenant who makes the glory of the latter house greater than the former will move mightily this year. As we speak now, participants from the U.K., India U.S.A, Switzerland and Nigeria have started arriving for the conference.
Come with an expectant heart and we know God will break chains, heal the sick, restore what the locus and the canker worms have eaten and empower you or greater works and uncommon transformation.