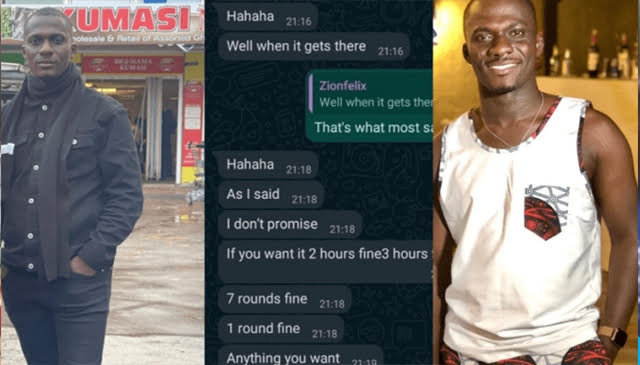 Zionfelix has been in the news again for a leaked chat between him and his alleged side chic.
If you can recall, it was published on Ghnewslive.com that Zionfelix who is one of the best and top Bloggers in Ghana has landed himself in fresh trouble as his chat with another side chic got leaked.
The blogger was in the news not long ago, he was heavily criticized by soo many industry players and netizens for impregnating two ladies at the same time. The blogger was bold to post a picture of him and one of her pregnant baby mamas on his official social media pages.
Now Zionfelix has two children with two baby mamas, there was another rumor about another baby mama somewhere in the United States Of America which the Ghanaian blogger never talked about.
Read also: Zionfelix In Trouble Again As A Lady Threatens To Drop Their S€x Chats And Videos
Another news from the camp of Zionfelix suggests that he was having s3.x with another lady who happens not to be his girlfriend Minalyn with whom they have a child together.
In the newly leaked audio, the lady can be heard begging Zionfelix to stop "doing" it hard because she couldn't take his big d1ck .
In the latest evidence available, zionfelix has been telling the lady that he is ever ready to go seven rounds should they get the chance to meet up when he comes abroad.
This particular chat between Zionfelix and that lady has gotten soo many reactions on social media with many wondering how a person could be soo much into vjayjay that he doesn't mind spoiling the lives of many ladies in the process.
See Chat below; swipe for more.