Ghanaian politician, agricultural enthusiast, and actor, John Dumelo, has kicked back hard at Nigerians who have decided to troll Ghanaians after the exit of the Black Stars at the ongoing FIFA World Cup competition.
A considerable number of Nigerians took to Twitter to taunt Ghanaians after the Black Stars' loss in their anticipated clash against Uruguay. Ghana has been eliminated from the tournament, with only 3 points to their credit in the group stage.
In the midst of all this, John Dumelo has however remained devoted to his country, as he declared that he is proud of the Black Stars in spite of their loss.
He likewise took to his Facebook page to face off with Nigerians who are ridiculing Ghanaians over the loss of the Black Stars, stating that their senior national team, the Super Eagles, didn't qualify for the World Cup in Qatar.
"Dear Nigeria, it's ok to laugh at us but remember you didn't see a quarter of Qatar….I am proud of the Black stars!" Dumelo indicated this on his Facebook page on Friday, December 2, 2022.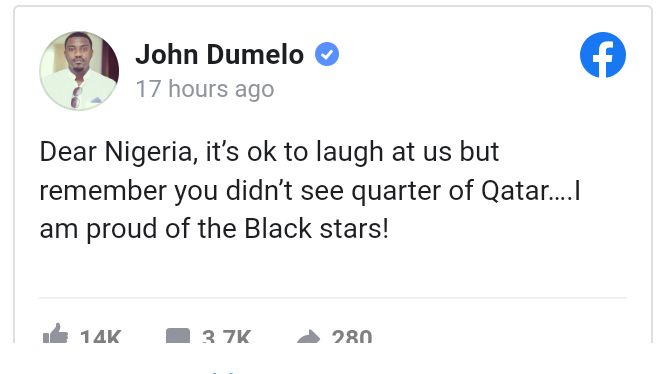 Peruse a few remarks beneath John Dumelo's post…
@Akande: Patriotic Africans don't mock their African brothers. Well done black stars!
Black salute!
@Azubike: Dear John Dumelo,
I'm a Nigerian. And I'm not laughing at Ghana at all. I sincerely sympathize and share in your grief today. It's a general loss for the entire west African region. Any Nigerian laughing at You guys at this very lowest point, is only exhibiting infantilism.
@Kou Mateo: John , in 🇱🇷Liberia we called this "broad daylight" vawulence against Nigeria 🤣🤣🤣🤣
@Vincent McCarthy: For me I don't think we should keep This bad energy between us ……I am a Ghanaian but I love Nigerians what we must discuss is how to make our greedy leaders think about us and involve us in their plans