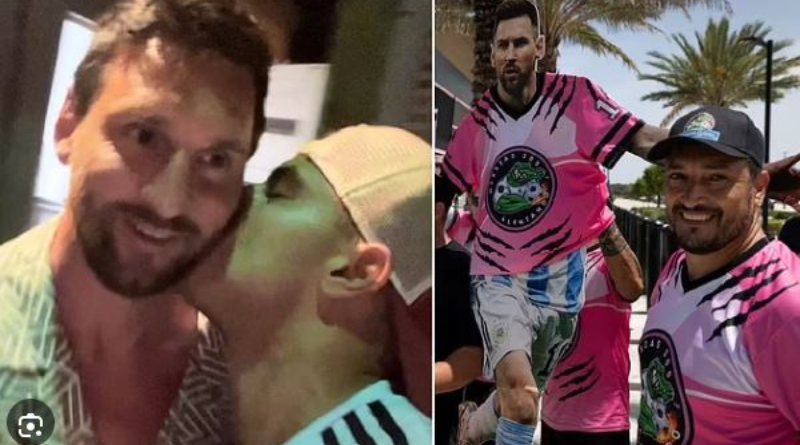 As Lionel Messi and his family and a friend exited a Florida restaurant in preparation for his anticipated debut as an Inter Miami player, he was surrounded by fans.
Before his anticipated blockbuster move to Major League Soccer, superstar Lionel Messi had his first night out in Miami and received a lot of love from one of his new fans.
The Argentine legend spent the first few weeks of June vacationing with his family in the Caribbean before arriving in Fort Lauderdale on June 11. He is now free to sign for Inter Miami after the US league's summer transfer window opened because his contract with Paris Saint-Germain expired at the end of last month.
The transfer represent a major coup for the franchise's co-owners David Beckham and Jorge Mas, with their courtship of the World Cup winner going back four years to the establishment of the fledgling club. The diminutive ace's move stateside comes following a glittering career in Europe which brought a staggering 43 major honours.
Messi snubbed the advances of former club Barcelona as well as a lucrative proposal from the Saudi Pro League to move to Florida and his decision to spurn these offers did come as something of a surprise. That said, the move transition to life in the US will likely be simplified for his young family due to the fact that they already own a property in the Sunshine State.
It appears that he is having no issues settling into life in South Beach either, having enjoyed a night out with singer Diego Torres, alongside his wife Antonella Roccuzzo and their three children and his father Jorge. Eating at the Cafe Prima Pasta restaurant in his new home city, the group exited the venue via the back door but was swamped by eager supporters trying to catch a glimpse of the superstar.
With fans asking for autographs and photographs with the 36-year-old, the eatery's owner Gerardo Cea did make attempts to move the crowd back. One eager supporter even pointed a selfie stick in the direction of Messi, before planting a kiss on his cheek and saying: "Leo, I love you brother. Thank you. Thank you. Thank you for so much!" The seven-time Ballon d'Or victor seemed largely unfazed by the experience and posed for pictures with the group of enthusiastic fans before making it to their car.
The drama did not end there, though, with the swell of onlookers then blocking the path of the car as they tried to leave.