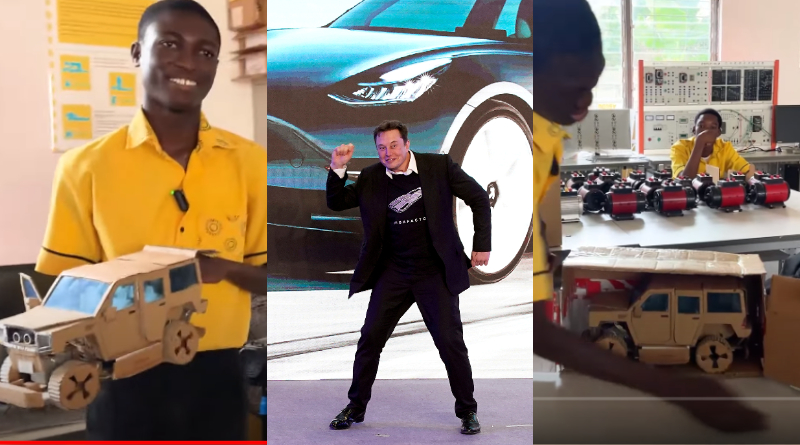 A Ghanaian SHS Student decodes Elon Musk's trick of buying self-driven cars.
There are a lot of Senior High School students doing amazingly well in their various fields of study but today the topic is "SHS Student Decodes Elon Musk Secret To Built Prototype Of Self-Driven Car" because what we saw about this particular student on High Schools Africa youtube channel will blow your mind.
In one of the recent videos High Schools Africa uploaded on their channel, we spotted a student in a yellow shirt and black shorts from Cape Coast Technical Institute who is now making waves on the internet for making a prototype of a self-driven car.
READ ALSO: The Most Powerful And Highly Respected Senior High School Prefect In Ghana
In the same video, it was revealed by the student that the best way Africa can develop faster in a way to match the Western world is to embrace technology and also encourage students to do more innovations by themselves.
Prosper Ansah, who built the prototype of a self-driven car took us through the functions of everything he used in building the car, he revealed the name and the module of his car as well.
According to Ansah, he knows all the tricks and secrets Elon Musk is using to excel in his self-driven car company, and he is ready to use his knowledge and skills acquired to help Mother Ghana if he gets the needed support.
Watch the video below,
SOURCE: www.Ghnewslive.com