Ghana's newest and fantabulous musical sensation, Black Sherif, is engraving his name in the history books, whiles simultaneously building a culminated heap of fans and followers across the globe, with his magnetic album debut release, "The Villain I Never Was", an unfailing project that has seen the artist's photographs on billboards in the US, with major cities like Los Angeles, New York, and Atlanta, all displaying images of the rising star from Ghana.
Ghanaians have been passionately lauding the youthful genius for the accomplishment that is only one of many, following the delivery and release of his first music project.
Black Sherif has unbelievably taken over a number of significant billboards in some the greatest urban communities in the US of America. In photographs that have surfaced via social media, the artist's photographs and pictures of his new album cover were sighted around Los Angeles, California, New York, and Atlanta Georgia respectively.
This is merely one of the achievements Black Sherif's "The Villian I Never Was" album has attracted since it's delivery on Thursday, October 6, 2022.
The classic 14-tracklist album, has rounded up an excess tally of 70 million views on the streaming and sound discovery platform, Audiomack. The young musician who earned himself a BET Awards nomination slot at the just ended 2022 edition of the ceremony, is on the verge of eventually taking home many categorical awards, given his angelic sounds and melodic tunes.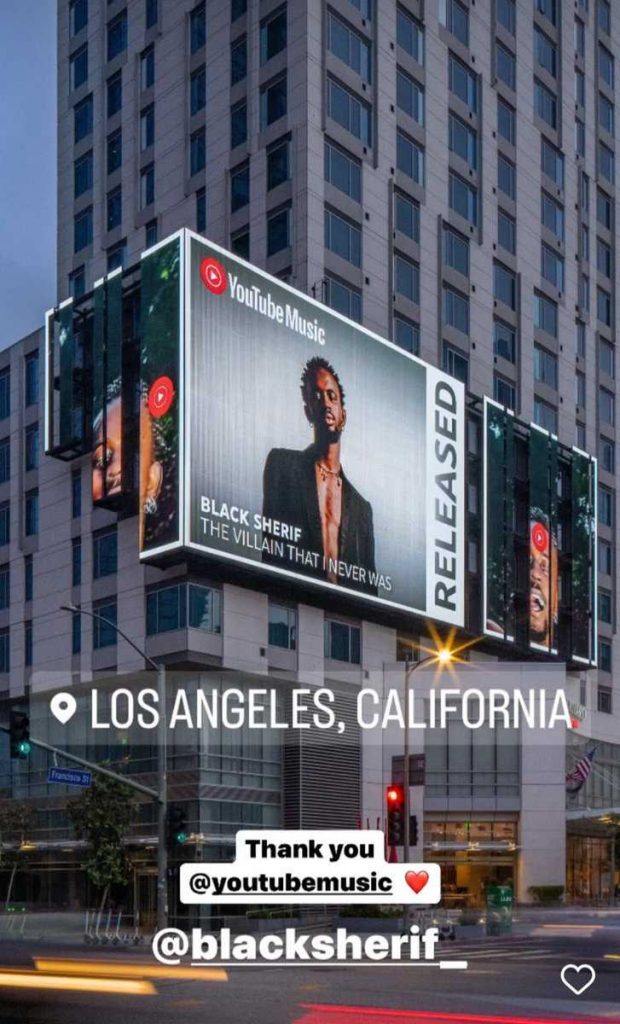 Barely 24 hours after the release of the album, it likewise set a standard on Apple Music UK albums chart. It crested at number 9 on the chart.
As such, Ghanaians have taken the privilege of responding to Black Sherif's ground-shaking career path, as he aims for pure glory and stardom, via the following remarks gathered beneath;
@Joshkaymedia said: Empire is a very good advertising brand. Aside the money thay they will get the bigger share, they will really give you the fame you want. Somebody give me their number. I want to advertize my Brukina business
@9troJr remarked: Man needs his flowers. This album is going to win Grammy. Been on repeat since.
@lakesideking200 wrote: A lot of musicians Dey with empire but don't get this reach. The guy be talented ankasa.