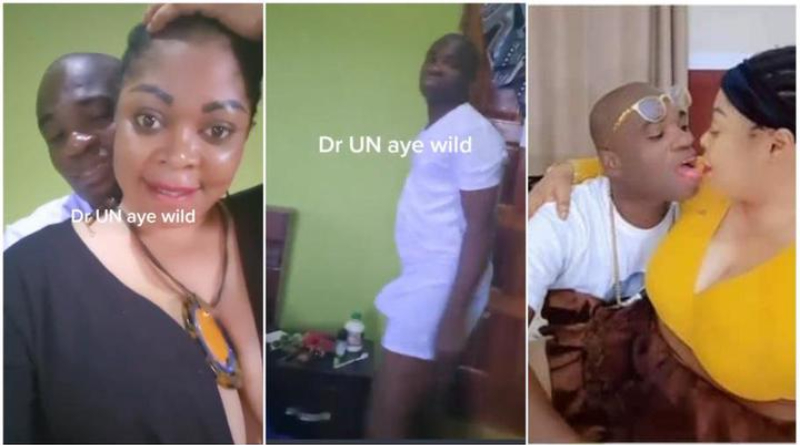 Dr UN and Joyce Dzidzor Mensah are seen in a bedroom in a viral video that has circulated on social media.
Dr UN And Joyce Dzidzor was shown in the film wearing only their underpants. The two have been claiming to be married for a few days now seemingly out of the blue.
READ ALSO: Romantic moment as Dr. UN carries his wife, Joyce Dzidzor, While He Cooks
The two have been maintaining it's real, despite the fact that many think it's a publicity gimmick, and to many people's astonishment, it has led to them even kissing on Facebook live.
In a new video, Dr UN was captured with a hard erection whilst recording a video with Joyce Dzidzor in a bedroom. "Dr UN what are you doing behind me," Joyce Dzidzor Mensah said in the video.
A few minutes later, Dr UN went decided to turn off the light in the room, however, he was unsuccessful and whilst returning to Joyce, the video below captured his erection which he swiftly tried to hide.
Dr UN has been back in the news after he sat on the Delay Show a few weeks ago to talk about his life, achievements and more.
Also known as Dr Kwame Fordjour, the Ghanaian is famed to have organized one of the country's most controversial award schemes. He succeeded in giving Sarkodie, Berla Mundi, D-Black, and Nathaniel Attoh among others fake awards and plaques made of inferior products.
Joyce Dzidzor Mensah on the hand has also been another controversial Ghanaian with her popularity stemming from her Ghana AIDS ambassadorial engagement.
SOURCE: Ghnewslive.com