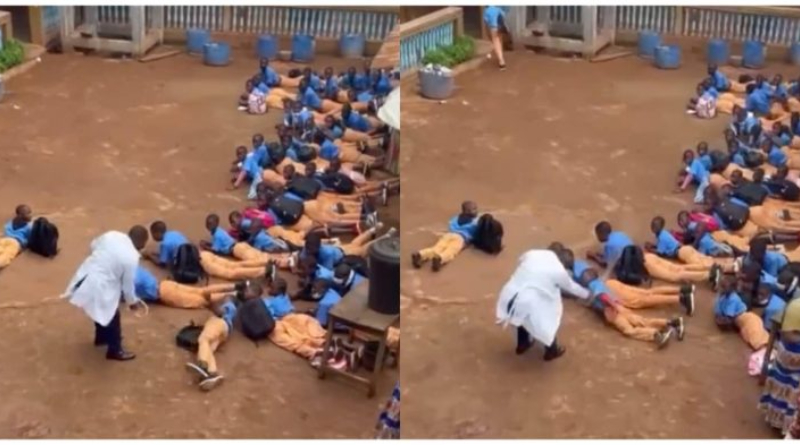 A shocking video of a teacher spanking his kids has drawn heated responses.
Several have demanded immediate arrest of the teacher due to what they see to be mistreatment and harsh treatment. These defenseless students are shown in the video lying on the ground while they alternately received lashings.
These children yelled in agony and misery as the teacher struck their butts with what appeared to be a rope.
In light of this, many feel that corporal punishment must be prohibited in the majority of African schools since it violates fundamental human rights and fair treatment.
Many believe he should be arrested as a deterrent to other teachers who, in the name of discipline, subject students to ill-treatment and physical abuse.
Tljogun wrote: For the record… no one should EVER beat my children like this… I will do justice in disciplining them myself… you didn't carry them for 9 months and birth them… you will now carry you hand up and down!!!!
Waffy wrote: This was a normal thing when I was growing up in sec school. Infact if we don't get flooged in a month it will begin to look abnormal
Odinakhen wrote: You don't pass through the school, you allow the school pass through you. Many of us went through this in school and tbh even tho some of them weren't fair, it's still part of what brings the good memories.
CivilisedParrot wrote: Back Then As A Kid.. I Hated The Pain Of Being Flogged Especially By Those Who Are Not My Parents. Now, If By Any Mistake My Kid Or Kids Find Themselves In Nigeria And A Teacher Does This To Them, I Their Father Will Retaliate Under 24 Hours With Double The Dose.
Meanwhile, many believe such level of discipline must be restored to all schools so to curb the high spate of reckless behaviour by students.