Ghanaian entertainer and eccentric female personality, Afia Schwarzenegger, is recognized for legally taking in her eight-year-old little girl, Adiepena.
Her experiences so far, after taking in the young girl, has been all show and tell, given her mainstream popularity, as she consistently uses every opportunity she gets, to exhibit the course of progressive bond she has with Pena, with her fans, to score more points on her social influencing endeavor, as well as give her admirers a slip look into the young girl's life.
Online cyber surfers have communicated their worries over Afia Schwarzenegger's parental skills, after Pena detailed that she had been harassed in school for being a foster child, who was adopted by a foster parent.
Apart from her questionable utterances and the scandalous set of behavioral patterns she has portrayed in her life as a controversial female personality, Afia Schwarzenegger, whose image hasn't always been positively perceived by social media users, has yet again given netizens, reasons and probable premise, to categorize her as an unfit parent.
In a video shared by Ghana Fuo Ho Nsem, the Ghanaian entertainer's daughter revealed an occurrence in her school. Adiepena uncovered she had been prodded and tormented by her friends and colleagues, who assert that she was "adopted from the bush."
In a fairly quiet tone, Afia Schwarzenegger apologized to her daughter for the setback, as well as her absence of consideration, as she had gone on a trip to Kumasi. Her conciliatory sentiment came after Adiepena stated that she was emotionally depressed and crushed by her colleagues' remarks.
Whiles attempting to show her daughter the various ways of becoming unaffected and unfazed by negative remarks, she made Adiepena repeatedly portray her colleagues' remarks as 'Rubbish', before their house.
Afia Schwarzenegger likewise asked Adiepena how she prefered the issue to be handled, to which the little girl responded to, by requesting that her mum call her attorneys and the police to make a move against her domineering mates.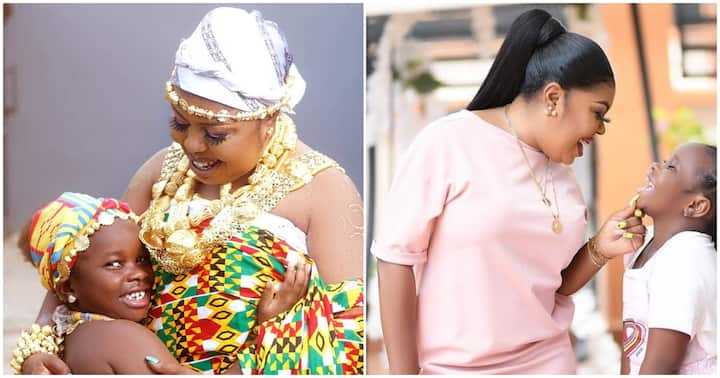 Afia Schwarzenegger's parental skills has been brought into question, by social media users, who are appalled by her unsatisfactory approach taken, to resolving her daughter's emotional troubles, as they express their sheer disappointments below;
diamonds.n.shadows said: Terrible parenting
quansimaah responded: This breaks my heart
afia___amponsah1 replied: Oh no no dis is disturbing
iamakuayirenkyi inquired: How did that child even know she was adopted?Afia mmom paaaa