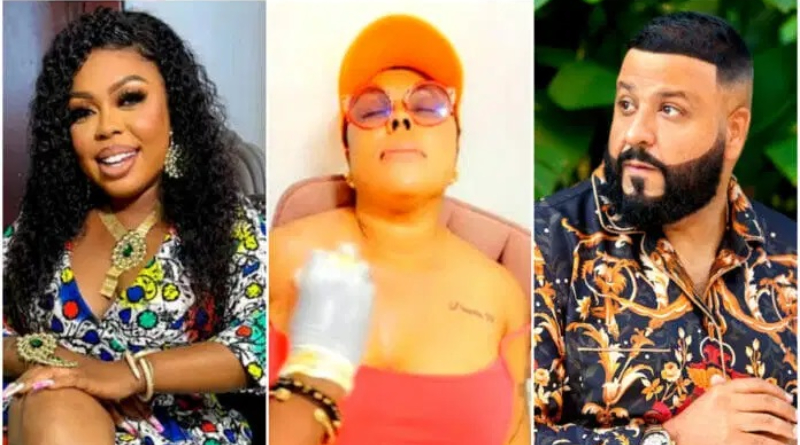 Afia Schwarzenegger, a controversial media figure and socialite, has a tattoo of DJ Khaled's album title on her chest.
Afia Schwarzenegger recently stirred up a lot of discussion on social media after announcing her friendship with DJ Khalid a few days ago on her page.
READ ALSO: DJ Khaled Drops Star-Studded 13th Studio Album GOD DID
She has shared a new video on her social media page getting a new tattoo with the title of DJ Khaled's album "God did". The tattoo of DJ Khaed's album was tattooed on the right chest of Afia Schwarzenegger with "God did" at the background of the video.
Social media users have however reacted to Afia Schwarzenegger's new tattoo of DJ Khaled
Read some comments below..
@Akosua Goddess: Nhwehwenim sei aaa 🙄🙄🙄
@Snow_mcclovin: She wrote "GOD DID SEE" 😂😂
@Nyame_ba: Djkhalid album is God did it not God did see
@Lyzkiss: I bet she did not take 8 min to listen to the whole song 🤣🤣
@Johnklu: Local market market slow or hot so we enter yankee fast 😂😂
@heros: camouflage things😂😂😂😂😂😂😂😂😂 just wait till the day She go vex Djhaled 😂😂😂😂😂😂😂 that tattoo will even vanish on its own🔥😂😂😂
Source: www.ghnewslive.com