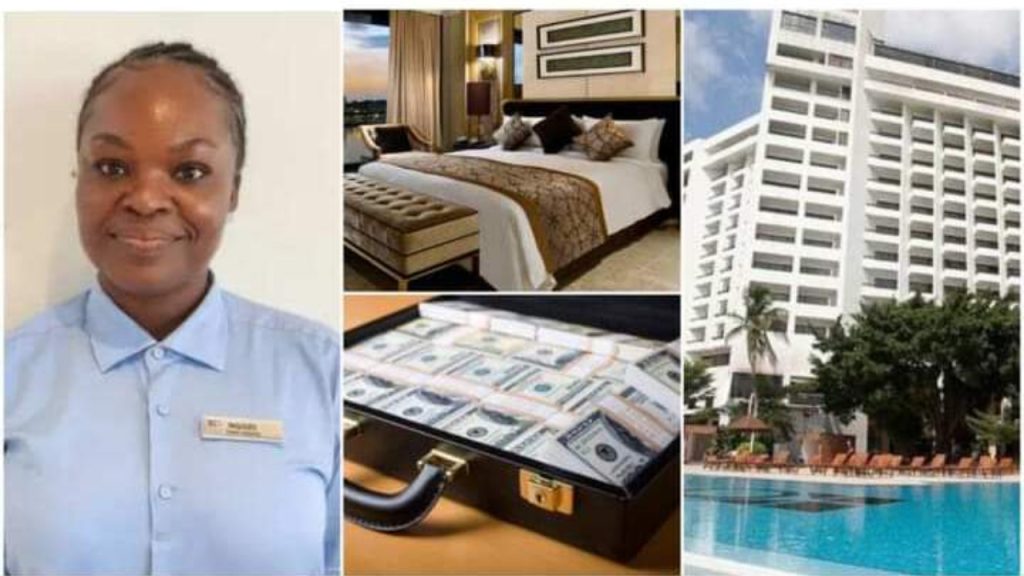 The moment Hotel Staff returned $70,000 she found it in a hotel room
One Nigerian lady's gesture of integrity has won the hearts of many in a world where honesty may often feel like a scarce commodity. Kekwaaru Ngozi Mary, a loyal employee at Eko Hotel and Suites, recently showed exceptional honesty when she discovered and swiftly returned a lost sum of $70,000 (equal to 54,355,000 Naira) to its rightful owner.
Ngozi's touching deed sparked widespread praise on social media, with many Nigerians thanking her for her steadfast honesty. A video of her incredible narrative was shared on sites such as TikTok, where her acts were viewed as a shining example of moral fortitude.
In the video, it was shown that Ngozi did not touch a single dollar of the large money she discovered. Instead, she made it her goal to immediately restore the money to its rightful owner. Her dedication to doing the right thing even when no one was looking has garnered her widespread appreciation.
In a world where some could have been tempted to keep the money for personal benefit, Ngozi's integrity stayed fast, demonstrating that honesty and character can triumph even in the most difficult of circumstances. Her actions generated social media debate, with many applauding her unselfish deed and commending her for setting a good example for others.
Despite the overwhelming praise and support she received, not all reactions were positive. A few skeptics expressed doubt and concern, suggesting that her honesty might invite challenges in life. However, the majority of Nigerians believe that her integrity will ultimately bring her blessings and pave the way for a better future.
Ngozi's story serves as a powerful reminder that doing the right thing is always the best choice, regardless of the circumstances. Her unwavering honesty and moral compass have not only restored faith in humanity but have also inspired others to uphold their values and principles.
As we celebrate Ngozi's remarkable act of honesty, let us be reminded that integrity is a timeless virtue that can create a lasting impact in our lives and society. It is a value that should be cherished and upheld, as it shapes the world for the better.