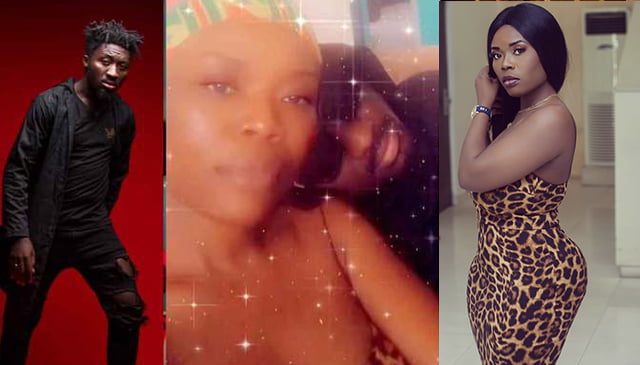 Amerado after being rejected by Delay for expressing his genuine interest in her gets to lay his head on her.
The social media space has been very busy this week following the leak of Tiwa Savage's S3.x tape and the rest of Shatta Wale and his Godson Medilkal. Now another trending issue has popped up and it is all about Amerado and Delay.
WATCH! The Full Video Of Tiwa Savage's Leaked ѕєχ тαρє, Here Is How It Got Leaked
Amerado is known to be one of the best rappers in the country, he became more popular and accepted by Ghanaians after introducing his youtube rap series called Yeste Nsem. He was recently called on the Delay show and what happened during the interview became a topic for discussion.
It was during the interview that Amerado boldly expressed his genuine feeling for Delay which the Ghanaian female presenter quickly threw that in the trash by making it clear that Amerado is too young for her.
Fast forward, there is now a new video making rounds on social media, in this video, Delay and Amerado are seen in a cosy posture where Amerado could be seen leaning over the shoulder of the beautiful Deloris Frimpong Manso, Delay.
Read also: Betrayed By Love – A Woman Ends Up In Prison After Blindly Trusting Her Fiancé
As captured in the viral footage, Delay seems to be filled with so much joy. It could be she's happy to have such a promising young man spend the day with her.
What is making Ghanaians talk about this video is Delay's facial expression, well we believe actions speak louder than words and the volumes about her true emotion and affection for Amerado was clear in the video. Well, what can we say again? Time will tell how the two can match up.
We were able to capture some comments on the video below,
king_summer_one: "Delay no no ??? I'm just passing by ???????????????
thateustaceboy: "No but it really doesn't matter. Delay is a sexy grown woman and above all hardworking. If I was not dating and delay showed up I'd date her. ?"
redjays4me: "I'm lying ooo but my ? is 12 years older"
Watch the video below;