Joe Mettle and Selassie have been one of the best couples in Ghana, new videos drop as they marked their daughter's christening.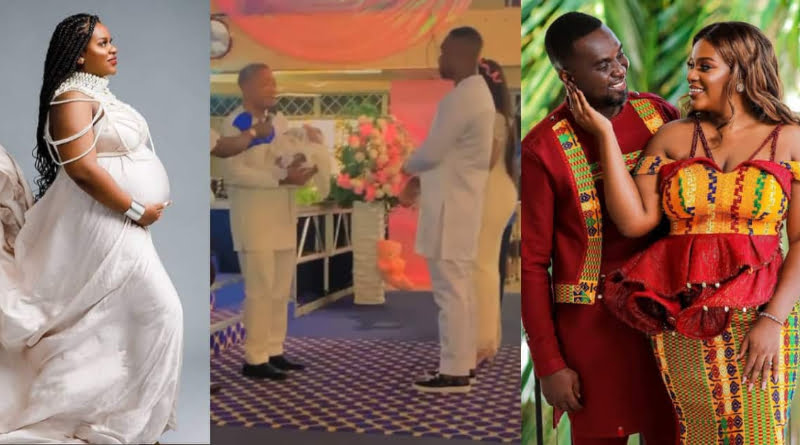 Joe Mettle and Selassie have been together as Husband and Wife since 2020, despite the negative comments from people on social media against their marriage, these two matured pair is growing stronger by the day.
After their wedding in August 2020, they came out to announce the birth of their daughter in October 2021 on social media, fans of Joe Mettle and Selassie reacted massively.
If you can recall, there were so many stories from the camp of Joe Mettle that suggested that the gospel icon who is known to be a virgin prior to marriage, was having major marital problems. It was made known that Selassie had grown tired of her marriage and had already left her marital house.
READ ALSO: Abena Cilla, The Beautiful Ghanaian Model Has Taken Over Social Media With New Photos Showing Her Body Shape
These rumors kept spreading but the couple remained silent about it until later they came out to clear the airwaves that they were still together and had already welcomed a daughter. Joe Mettle confirmed his wife's pregnancy on social media on Wednesday, October 20th, 2021.
He wrote: "I just want to take this time to express how grateful I am to God for the life of this amazing woman in my life @serlcy_d. I love you so much babe and thank God for you.
It has been three months since she had her naming ceremony and they have followed it up with her christening.
Cwesi Oteng, a gospel artist who was in attendance, posted a video on social media. "Congratulations Mr & Mrs @joemettle @serlcy_d on the christening of your beautiful & lovely baby girl." he wrote.