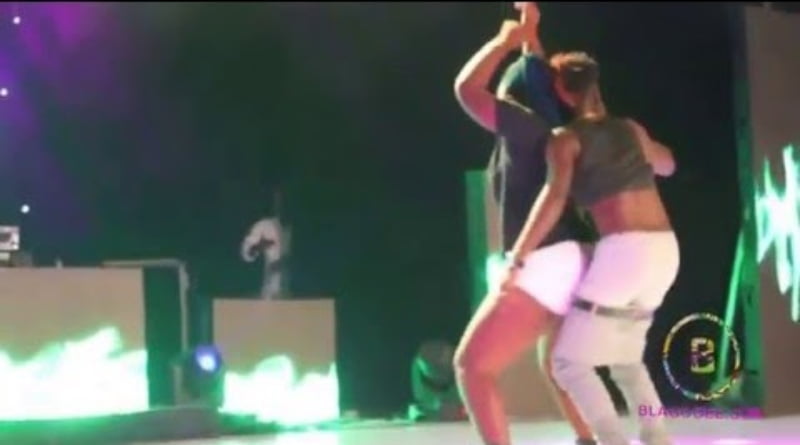 Wisa Gried is one of the singers with unforgettable hit songs in Ghana, he was on the Decemba 2 Rememba show in 2015 and he show his dick whiles on stage.
Wisa Gried was on the 2015 Decemba 2 Rememba concert which was organized by Citi FM, many weren't at the location but enjoying from home we got informed that Wisa Gried who is known for his hit song Ekiki mi performed badly as he brought one a lady on stage and removed his penis.
There was soo many controversies after the show and he was also billed to perform on Sarkodie's show at the AICC and Sarknation was scared Wisa might repeat the art he portrayed at the D2R2015 organized by Accra based Citi FM.
Read also: [+VIDEO]: Netizens React To A Trending Video Of Couples Making It Out Clearly In A Public Swimming Pool.
Fans who enjoyed his music ekiki mi rant abusive words on the artist for showing off his penis to the audience. According to some comments "so Sarkodie billed this guy to perform at his rapperholic concert and did a remix of ekikimi? Is this guy normal?".
On social media (Twitter) Jessica of Citi FM apologized tweeting "Pls accept our sincere apology about the unfortunate incident with Wisa Greid. Citi FM does not condone indecent exposure #DR2015.
The Rap Doctor Okyeame Kwame also posted "Wisa just started and ended his career in one Night. #WisaDoesntalwaysmeanWise
The night saw thrilling performances from scores of artists billed to dazzle the audience as they usher into the Christmas festivity.

Check the nude stage performance of Wisa.