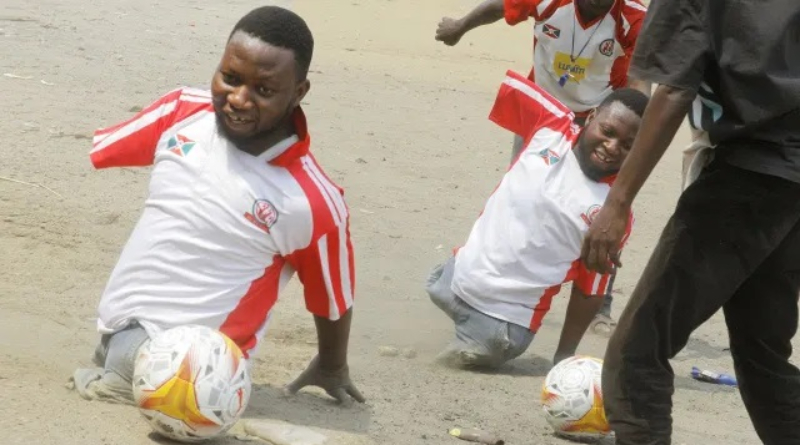 Video of an incredible footballer without legs and arm
The incredible footballer without legs and arm has taken over social media after a video of him playing football hit the internet. He was born crippled and has been living a disabled life for the past 28 years.
His life has always been filled with sorrow and struggle, beginning with his youth when his parents wanted to throw him out of the house due to this disability, but all of this has sculpted him to be a strong person.
READ ALSO: I didn't know his outfit was an SDA uniform, I thought I was dating a pilot – Lady claims
Despite the bullying and trolls he receives, he has become an inspirational artist without limbs, developing and making various arts. He is one of the few, if not the only, football players who does not have legs. He also coaches and passes on his football knowledge to others.
Coaching may be easy, but how does he play football? According to Afrimax, Eric was born physically disabled, without both hands and legs. Afrimax was told that both parents did not treat the boy's predicament equally, as the husband wanted to abandon the lady and always blamed her for delivering such a physically challenged child.
READ ALSO: Meet Abena Cilla, the pretty Ghanaian model whose heavy 'tʋŋdra' has taken over IG
According to Eric, his mother fought hard to keep him, but his father insisted on tossing him away until his mother chose to take him to his grandmother, where he was raised.
Growing up was very difficult for someone with no arms and legs but he learned how to cope with life's hardships and challenges. He dropped out of school in his fifth grade and regrets because he thinks that if had chances of schooling and graduating he would have had a better life.
Eric loves footbal and dreamt of becoming a football superstar since he was young but his life condition did not allow him to compete to international level but that did not stop him from playing football more often.
He overcomes all odds to play football because of his passion for the game; to him, football is the greatest invention of mankind because it connects and entertains a large number of people.
Eric was born without arms and legs, but he defies all odds to pursue his dreams.
Whatever you are going through, don't let your current position prevent you from being the person you want to be.