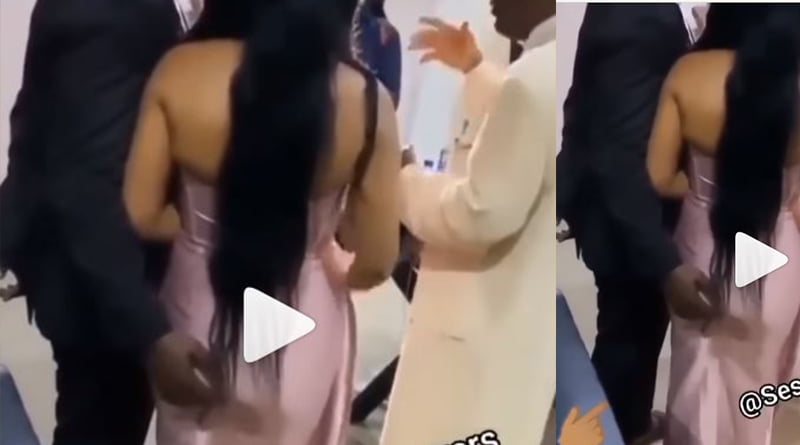 A camera caught a

man

who was busily pressing the backside of his wife as their Pastor seriously prays for them.
Some guys can't even keep their feelings in check and wait for the proper moment to have intimacy or romantic moments with their wives. Ecclesiastes 3:1-8 in the Bible says that there is a season for everything. The gentleman in your photograph, on the other hand, was caught doing the right thing at the wrong time.
Watching the video carefully, you can see a pastor standing beside them with a lot of church members surrounding them in the same room. The pastor was heard in the video praying by saying, "We pray for them in Jesus's name. The works of the devil cannot operate in their lives". Surprisingly, the man was not in the same mood and agreement with the pastor.
He was videoed by one of the church members in the room busily pressing the buttocks of his wife as the pastor was in the spirit praying for them. The wife after realizing that her husband is not paying attention removed his hand from her backside but the man still kept his hand at the wife's backside.
Read also: Meet Vladimir Gucci, The Man Who Has Over 90% Of His Body Covered With Tattoos
The wife saw that her husband is not ready to partake in the prayer so she concentrated on the prayer and leave the husband to do whatever he wanted. Some social media users after coming across this video said that there are some men who get sexually aroused when prayer is being said for them. Others said that it could be that the husband is a womanizer and that could be the reason why the pastor was casting every demon from their marriage.