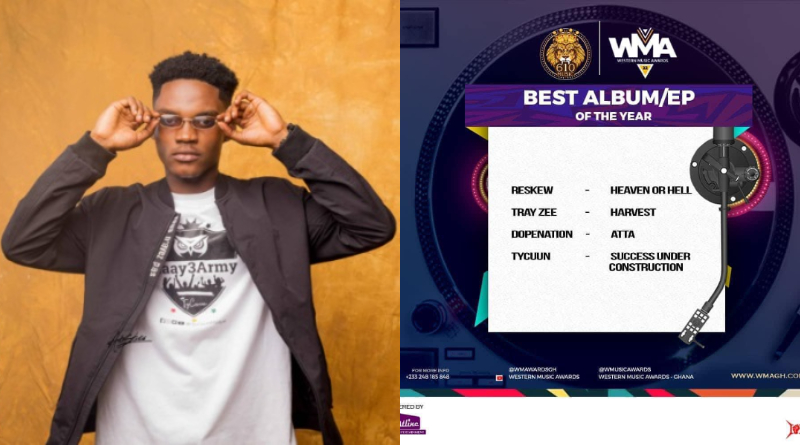 TyCuun has successfully gained a nomination for this year's Western Music Awards
Hardwork they say pays, and young rapper Joseph Mensah, popular known as TyCuun is walking that talk.
Having put so much into releasing his debut EP last year, the "Nobody Dey" crooner has followed it up with a nomination for the upcoming, Western Music Awards.
His EP, "Success Under Construction" has been marked among three others vying for the EP/Album of the Year.
It will be an awesome moment for the "We Go Make Am" hitmaker to pick home the much-coveted award on the awards night. We wish him all the best.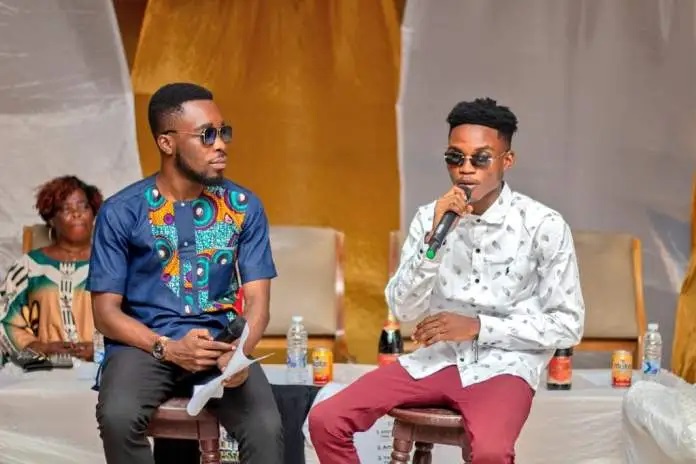 Meanwhile, Tycuun speaks about talents in the western region: Western Region Owns Hundreds of Mind-Blowing New Talents, Time to Project Them In The Limelight
TyCuun started by saying "The best comes from the west" and there's no doubt about it at this very moment in our entertainment space here in the Western region especially in our MUSIC INDUSTRY to be precise.
Honestly, We've got hundreds of mind-blowing NEW TALENTS packed here in the west as well as more Media Outlets (Radio, Bloggers, Promoters, TV Channels, DJs, Event Organizers & More) with Awards Schemes lighting up in the region and rewarding artists on their works as compared to what we were having years back and it's so great because the entertainment space can only garner more super traffic through these above-mentioned media outlets, and the media in the region is doing its best in pushing some of these "NEW TALENTS" and we can't take that fact away.
But let's take a look here, we don't have more than 10 Western Region Artists in the limelight, and even if we do, we don't have all of them always having their names in the news making so much huge impact on the region aside few names and that's where we all (Media & the Artists) have to realize that we've got holes to fill, we've got more work to do, we've got NEW TALENTS to project, we've got to move from our comfort zones, we've got to make things right and even better, in fact, we've got more to do than what we've been doing.
At least, let's target a projection of "5 NEW TALENTS" every year and see the impact it's going to have on the region. And it shouldn't be just any NEW TALENTS, but the ones you can watch from afar and testify that they're seriously putting in much effort, working on their crafts, making great music, building a marketable brand, etc. In this case, we'll need the Media (Radio & Bloggers) to spend more time reviewing projects from such artists and creating positive news about them and in collaboration with the bloggers projecting this positive news on their major blogs as it is.
And also to some of our industry players, you've been mentioning almost a list of particular artistes on almost every bigger platform you chance on and billing the same artistes you've been billing over the years and the region isn't receiving the attention of the bigger Ghanaian industry, such pattern isn't making any difference so why then don't we begin to project new crop of talents by mentioning them on those big platforms, awarding these DESERVED talents and billing these NEW TALENTS on our events and see what such pattern is going to do for the region and trust me we'll see a more different positive change reflecting on the region and we all can benefit one way or the other.
Hoping we give ears to these humble & noble suggestions and begin the ACTIONS because Our greatest enemies are always our own doubts and fears. But
there are no limits to what we can do, be, or have except for the
limits we place on ourselves.
For the culture, for the love of the game, for our industry to grow big & bigger, SuccessUnderConstructionEP is out, Let's enjoy!!!!
SOURCE: www.ghnewslive.com