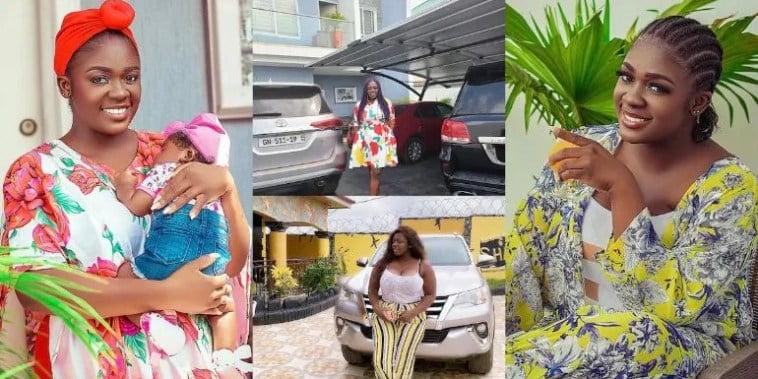 Pictures of the cars and mansions Tracey Boakye has managed to acquire throughout her life popped up online.
Tracey Boakye is known for acting, but she also often bragged to Ghanaians, she owns 3 houses at the age of 29 – she have two in Accra and one in Kumasi.
Tracey Boakye has released soo many vodeo which she kept making it clear that she has made or gotten soo much wealth from her sugar daddies.
She recently revealed that she has three houses, which one is in Kumasi and the other two are also in Accra which was given to her recently in East Legon.
Many celebrities post their wealth and life achievements on social media and get objections but so far so good with Tracey Boakye as all her post about mansions and cars are yet to be objected.
1. The Kumasi (Shakira) House:
Tracey Boakye said she completed this house in the year in 2018. She calls it the Shakira House, Tracey Boakye also made it clear that she started the house with proceeds from the first movie produced by her Shakira Productions.
2. First Accra (Baby Mama) House:
Tracey Boakye In August 2019, announced the completion of her mansion and her first in Accra.
This second house of her and the first in Accra was also nicked named Baby Mama, this house has a swimming pool and it was named after a movie she had just produced.
This particular house is said to be located at Lakeside Estate.
3. Second House in Accra:
Tracey Boakye recently flaunted a new house which is said to be located at East Legon. In her attacks on Mzbel, Tracey made it known that she got this new house from their sugar daddy.
4. Toyota Rav 4: