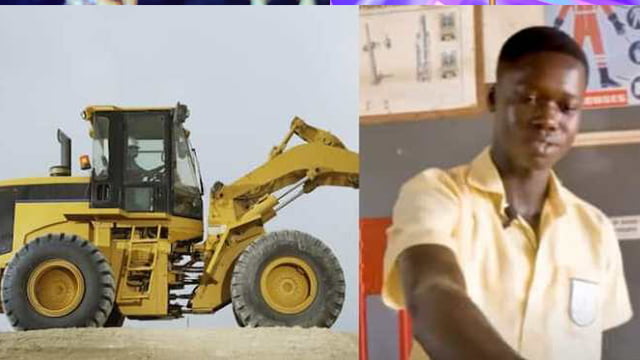 The Technical Institutions in Ghana needs more attention and supports from the government, see what this Takoradi Technical Institute student has done.
Takoradi Technical Institute has been the best in the Western Region of Ghana in terms of technical education. The school has done very well in bring or producing more technical students who are excelling in other fields of life and at their various workplaces.
In this article, we are talking about a young man by the name Essifie Abraham who has reportedly built an excavator from rubber tubes, cardboard, and water.
It however operates using water. Water is being pumped into the machine to make it work. The water doesn't act as fuel, however, the pressure from the water when pumped into the excavator makes it work perfectly.
Essilfie Abraham studies Automotive engineering at Takoradi Technical Institute in the Western Region of Ghana.
What makes this excavator mind-blowing is that it does not operate on any electrical wires or batteries or sensors. It only uses water to operate. From the above comments, Ghanaians have really shown concern for this and are happy for this student.
Most believe that Ghanaians do have a lot of talents and these talents should be well nurtured at the right institution. This is indeed great news for Africa as this little excavator with such qualities has not been built anywhere in Africa before.
Most concern from the comments above shows that, who is going to help this young man develop his talents to the fullest? Some are worried that, this student may not be heard from again if no one helps him to build on his talents.
He, however, said that he needs help to make him make more amazing machines in the near future. This is causing massive reactions on the internet and Ghanaians can't stop talking about it. Thanks to High Schools Africa for this amazing video, they took their time to visit the school and made this young man known.
Read Also >> The Most Powerful And Highly Respected Senior High School Perfect In Ghana
watch the video below,