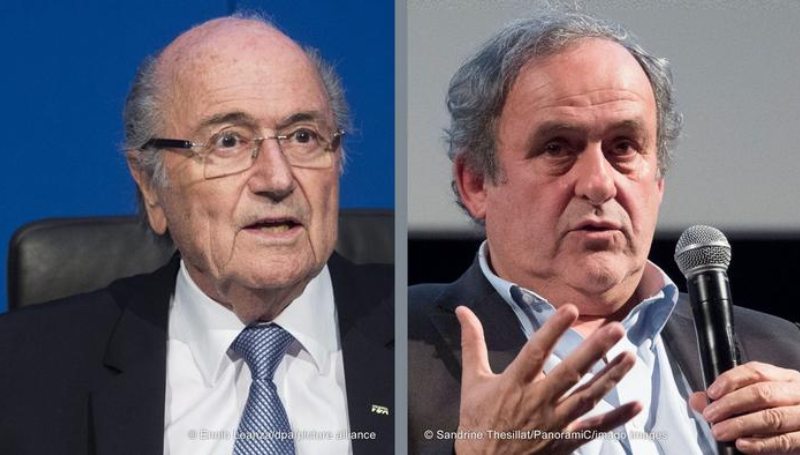 Sepp Blatter and Michel Platini acquitted of fraud by Swiss court
The former Fifa president Sepp Blatter has insisted he is "clean with my conscience and clean in my spirit" after being cleared of defrauding football's governing body by a Swiss court.
Michel Platini, a former captain and manager of the France national team who became a vice-president of football's world governing body, described his joy after his acquittal, saying the allegations had turned him from a legend to a "devil".
The two men, once among the most powerful figures in global sport, had denied the charges. On Friday they joked and shook hands before the judgment in the southern city of Bellinzona and looked relieved as the verdict was read out.
The complex case centred around a 2.2m Swiss francs (£1.7m) payment made from Fifa to Platini with Blatter's approval in 2011, for consultancy work a decade earlier. Swiss prosecutors described the payment as "without a legal basis" and said it had "unlawfully enriched Platini" because there was no written contract at the time.
Both men maintained they had struck a verbal gentleman's agreement for the Frenchman to be paid backdated additional salary for advising Blatter between 1998 to 2002 – which Platini had not received at the time because of Fifa's perilous finances.
That explanation was rejected by judges on Fifa's ethics committee, which banned both men from football, and on appeal at the court of arbitration for sport. The emergence of the payment also led to Blatter ending his reign as Fifa president in disgrace – while Platini lost his job as president of Uefa, the European governing body, after his ban.
However, after an 11-day trial at the federal criminal court of Switzerland, the senior judge, Josephine Contu Albrizio, said it was credible that there could have been a verbal agreement between Sepp Blatter and Michel Platini. The judge also accepted that it was reasonable for the Frenchman to see his market value at CHF 1m a year given his status in the game – far more than his annual salary of CHF 300,000 as a consultant at Fifa between 1998 and 2002.
Albrizio added that it seemed implausible that Platini would have worked only on the basis of a written contract that paid him such a modest sum. And she said it was also credible that Platini sought the extra money only in 2010 because he did not need it immediately.
Read also: Inaki Williams announce his readiness to play for Ghana at the 2022 FIFA World Cup
Follow AyeyiBruce on Facebook for more news