PM Foundation Set To Celebrate Its 5th Anniversary
"Service to Humanity" is what the PM Foundation stands for. The award-winning NGO has been serving variously depressed communities with its annual event for five years. The 5th Edition of "Dine With The Street," which equally marks the 5th Anniversary of "PM Foundation," will be held at Kwesiminstim Community Grounds on the 10th of December 2022 at 10 a.m. for the less privileged in the Kwesiminstim Community.
Every year, a deprived community is chosen by the team for its flagship event. The Maiden and The 2nd Edition were at BU, 3rd (New Site), 4th (New Takoradi), and this year, the 5th, will be held at Kwesiminstim.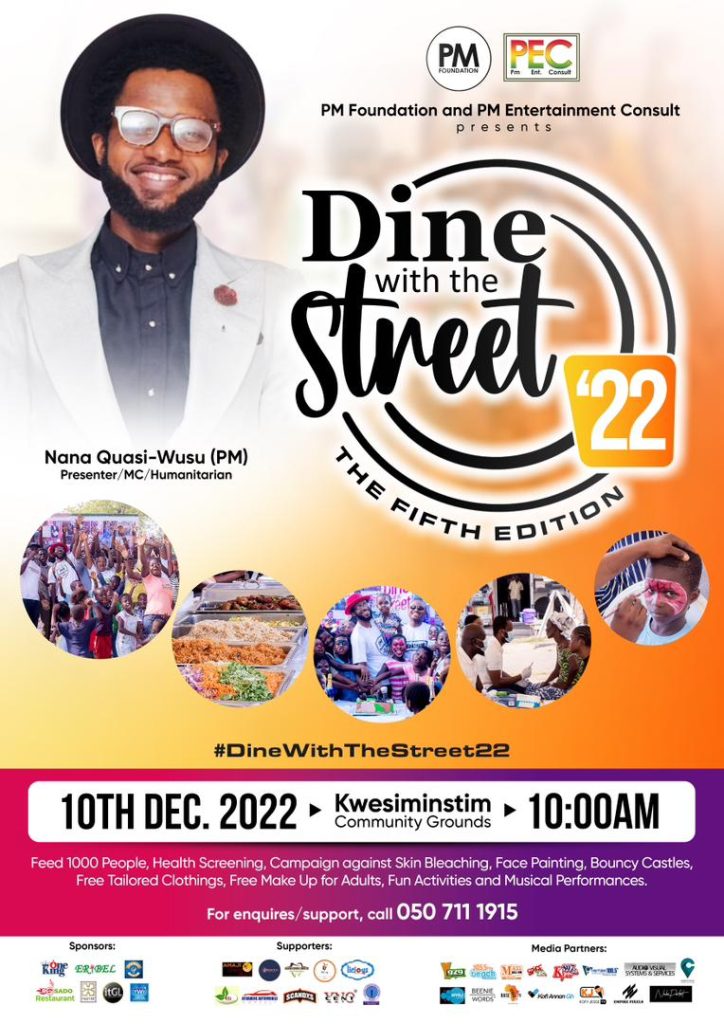 The Mission of the Foundation is: Support The Less Privileged, Support Young And Ambitious Talents/Entrepreneurs, Campaign Against Skin Bleaching, Promote Made in Ghana and as well Empower The Youth To keep Their Hustle legal.
Activities for the 5th Edition ; Feed 1000 people, health Screening, Campaign Against Skin Bleaching, Face painting, Bouncy Castles, free Tailored Clothings, free make Up for adults, fun activities, and musical performances by Shasha Marley and Neffgee.
The Founder, Nana Quasi-Wusu in an interview said "PM Foundation wants to do more for the less privileged so Corporate Ghana and Individuals who can support should come to their aid".
For any support/enquiries Call +233 507 111 915.
Email: [email protected].
social media: @Pm__foundation.
PM Foundation…Service To Humanity.