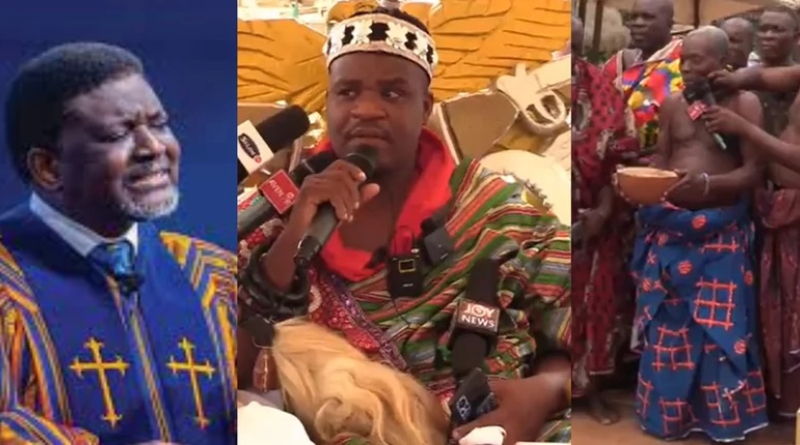 Angry Nogokpo traditional leaders demand Agyinasare appear before them for questioning
Archbishop Charles Agyin-Asare has been given a 14-day deadline by the Nogokpo traditional leaders in the Ketu South constituency of the Volta Region to appear before them for negotiations or face the wrath of their gods.
In a recent contentious remark about the town, the creator of Perez Chapel International allegedly denigrated the gods and the peace-loving people of Nogokpo and labeled them as wicked, according to the chiefs and people, who held a news conference on Friday, June 2, 2023.
READ ALSO: Ajaguraja Explains The Difference Between A Man Of God And A Christain
"We the chiefs and people of Nogokpo give Archbishop Charles Agyin-Asare a 14-day ultimatum to meet us in person for a peace talk," the chiefs said at a press conference.
This follows a statement by the revered man of God during a sermon that Nogokpo is the headquarters of demons in the Volta Region.
"During this crusade in Aflao, we slept at Agbozume, that was where our hotel was, and you must go through Nogokpo. And Nogokpo is the demonic headquarters in the Volta Region.
"We only have not said it but the second night I made Bishop Yaw Adu talk about witchcraft and we disgraced the witches and wizards.
" When we were driving from Aflao to Agbozume, immediately we got to Nogokpo, Bishop Yaw Adu's four-wheel drive, the tyre came out from under the car," Agyin-Asare recounted while preaching to a huge congregation.
He had to clarify in later sermons that he did not mean any harm and that he was taken out of context after a video of the sermon went popular on social media and incited heated responses.
He clarified that he wouldn't deliberately offend locals because his wife is an Ewe from the Volta Region.
It seems, nevertheless, that the conventional leaders are not placated. They seek a private peace meeting with Archbishop Agyin-Asare to discuss their issues and inform him of the ideals of Nogokpo.
They say failure to honour the ultimatum, they will be left with no other option but to refer their concerns to the gods to handle.
SOURCE: www.Ghnewslive.com