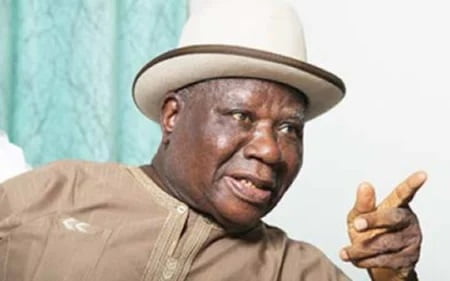 Niger Delta Leader has given a three-month final offer to the Federal Government to rebuild the country and assemble a public exchange involving agents of ethnic gatherings to diagram another course for the country.
This position was contained in a report gave toward the end of a South-South zonal gathering held in Port Harcourt, the Rivers State capital, on Friday.
This conference is known to have critical stakeholders and representatives of ethnic nationalities in the region, it was fully organized by the Savannah Centre for Diplomacy, Democracy and Development in partnership with Agape Birthrights Development Initiative.
Elder statesman and Ijaw leader, Chief Edwin Clark, was represented at the event by Chief Obiuwevbi Ominimini who read his address. Others also at the conference include career diplomat and Nigeria's former Ambassador to Czechoslovakia, Dr. Godknows Igali; and the National Chairman of the Pan Niger Delta Forum, Senator Emmanuel Ebok-Essien.
While repeating the pressing requirement for rebuilding and devolution of more powers to states, they said severe and oppressive propensities against the Niger Delta area and its kin would at this point don't go on without serious consequences and encouraged the summit government to quit selling out their assets to the Chinese and others.
The partners cutting across the nine conditions of the locale said at the termination of the three months cutoff time, the Niger Delta individuals will begin the cycle that will ensure their opportunity and progress.
The dispatch was perused by noticeable Niger Delta dissident and President of Agape inheritances advancement Initiative, Ms. Ann Kio-Brigss incompletely expressed, "We individuals of the Niger Delta thusly give the Government of Nigeria a three months window, inside which to cheerfully address our interests towards re-federalizing the commonwealth, by assembling a public discourse of the delegates of the ethnic gatherings in Nigeria to graph another course for the country.
"At the expiration of this three months window, we the people of the Niger Delta will commence the process that will guarantee our freedom and progress.
"Our people should mobilize all human resources to see that fiscal federalism and devolution of powers are includes in the constitution. There should be internal justice amongst us- charity begins at home.
"We the people of the Niger Delta hereby reaffirm their commonality, unity, and oneness despite our multi-ethnic diversities.