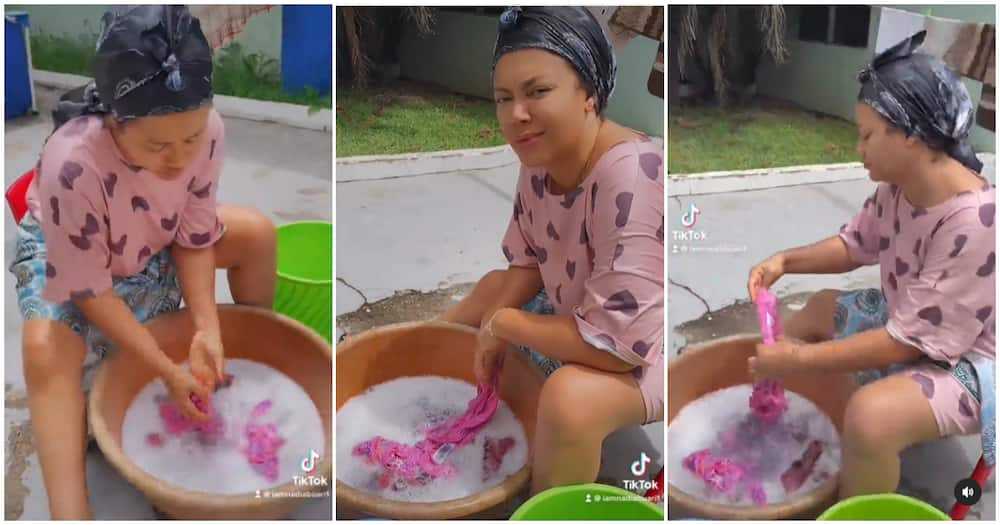 Endowed Ghanaian actress, Nadia Buari, has aroused a heated course of discussion among various social media observers, after she chose the conventional approach of washing her clothes.
Nadia Buari sat on a stool as she washed with such a great deal of concentration and energy, without expressing signs of fatigue or stress.
The video has ignited numerous responses from cybersurfers, as some of her impressed followers tagged her as a resourceful lady, with a domestic sense of tidiness.
The diverse award winning actress, has left the web choked with reactions, after she chose the local way to doing her laundry.
Per the funny video, she was sighted sitting on a wooden stool, as she had unclean garments in a bowl of lathery water. She washed the garments with a focused demeanor and energy, as the camera recorded the significant moment.
The affable actress was wearing house garments as she had a scarf folded over her head, and she had on her nightie as she proceeded on to cleanse her garments.
The video was an entertaining video that featured the voice of a concerned man with regards as to why women who have their self earned money, still persist on accumulating a huge cut of their partner's monthly stipend, for the purpose of spending it on other external needs.
Captioning the photograph, Nadia said, "Ask again! All the men should answer this question please." The video has gotten many individuals in a state of laughter, as they watch Nadia washing her clothes bare handed.
Peruse through the following comments of netizens, who couldn't believe the actress' inspiring act of genuineness.
gloriaosarfo said:Ajeeeiiiiiiiiiiiii‍♀️‍♀️‍♀️‍♀️‍♀️‍♀️
nations_blogger texted: U people no dey think us koraa oo
chukwuemeka3512 replied: A strong virtue woman❤️,
nwanyioma bamfojohnlarry responded: Ah Nadia